Welcome to the Thanksgiving edition of Event Horizon. The Black Friday madness has come and gone, since most sales are over by 1pm, and now it's time to turn our eyes back to the wonders of the entertainment industry.
Picture of the week: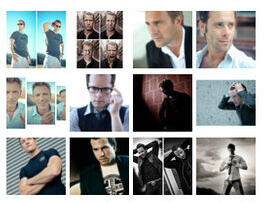 Just in time for the new year, or ok maybe a month early, Filmart offers a men of sci-fi calendar by photographer Dennys Ilic to inspire your 2012. (These pictures weren't in the calendar, I pulled them together after the fact because there aren't images of the calendar anywhere anymore and the one I had was super small.

Interview of the week:
Stepping away from The Avengers (just for a bit) Henry Cavill had an interesting piece in the Los Angeles Times (yes two weeks ago – leave me alone! I can't do everything cool in one week so sometimes slow weeks get old fun.)
#FF
@TheNeilJackson because he's funny and sweet and rocked Stargate! and did I say handsome? he's that too – favorite tweet: