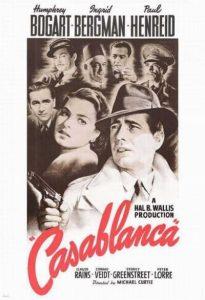 Rating: 3.75 of 5





Surprisingly, no, I'd never seen Casablanca before last week. I generally don't like old movies so I pretty much don't ever make the time to watch them. The production values are lower, the stories or characters can seem cheesy to a sophisticated audience (yes, that would be me). Plus, I don't ascribe to the belief that just because a movie is a classic it's therefore good. Someone once said that the golden age in Hollywood wasn't really golden, it's just when we learned to industrialize movie making. I agree, so, I don't expect that all classic movies will stand the test of time.
But a friend and I were in the middle of a movie swap and Casablanca was the only thing she had left that I hadn't seen. And, once I admitted that I hadn't seen it she encouraged me to give it a try. I watched mostly out of obligation to her because she's a very good friend, but I'm glad I did because it was really good, and does stand the test of time.
The characters are all smart and well developed, very quickly and simply. Even the tertiary characters have personality and voice and you care about what happens to them. The plot was smart and intriguing. Which was sort of brilliant because so often these days there seems to be an idea that a plot has to be revolutionary or convoluted in order to be interesting. This shows that a good plot well told can be enough.
I loved how honest everyone was within their little world. They could hide from the new people that the roulette wheel was rigged, but they were all very open with one another about making sure the cop won. Especially the cop and Rick. I like honesty. And their sort of honor among thieves was well done and enjoyable.
The heroine was a little whiny and wishy washy for me, but Rick I liked and the cop I liked and even Victor was cool about being up front with who he was and forgiving of her for being lonely.
It seems simple, compared to the extravagance of locations and sets and special effects we have today, but everything was used so effectively to serve the story it still stands as an example of how films can be well done.
| | |
| --- | --- |
| Writing: | |
| Characters: | |
| Performances: | |
| Directing: | |
| Production: | |
| Overall: | |