To be Brad Pitt is to know the bowels of hotels: the hidden mazes of back entrances, subterranean passages and service elevators daily trudged by housekeepers and room service waiters—and sometimes traveled by a VIP guest who needs secret conveyance to his suite. Thirty minutes before Pitt is scheduled to arrive at the Roosevelt Hotel in Hollywood, his private security detail is scouting a route through the basement and issuing brisk instructions to hotel staff. Intensifying the situation is the fact that, a few days earlier, Pitt said on television that he "hates" the paparazzi—an arguably gratuitous comment, since, who didn't already know that? "Now," he announces when he blows through the door of the 12th-floor suite, motorcycle helmet in hand and aviator glasses still on his face, "they're out for me."
Pitt flashes the half-cocked grin shucks off his leather motorcycle jacket to reveal a gray cashmere V-neck sweater and quickly walks the perimeter of the suite, glancing into the kitchen and bedroom and pausing briefly at each window to assess the scene below on Hollywood Boulevard. This isn't the display of anxiety by a hunted man, though. It's more like the adrenaline of a high-stakes player who knows he's ahead in the game.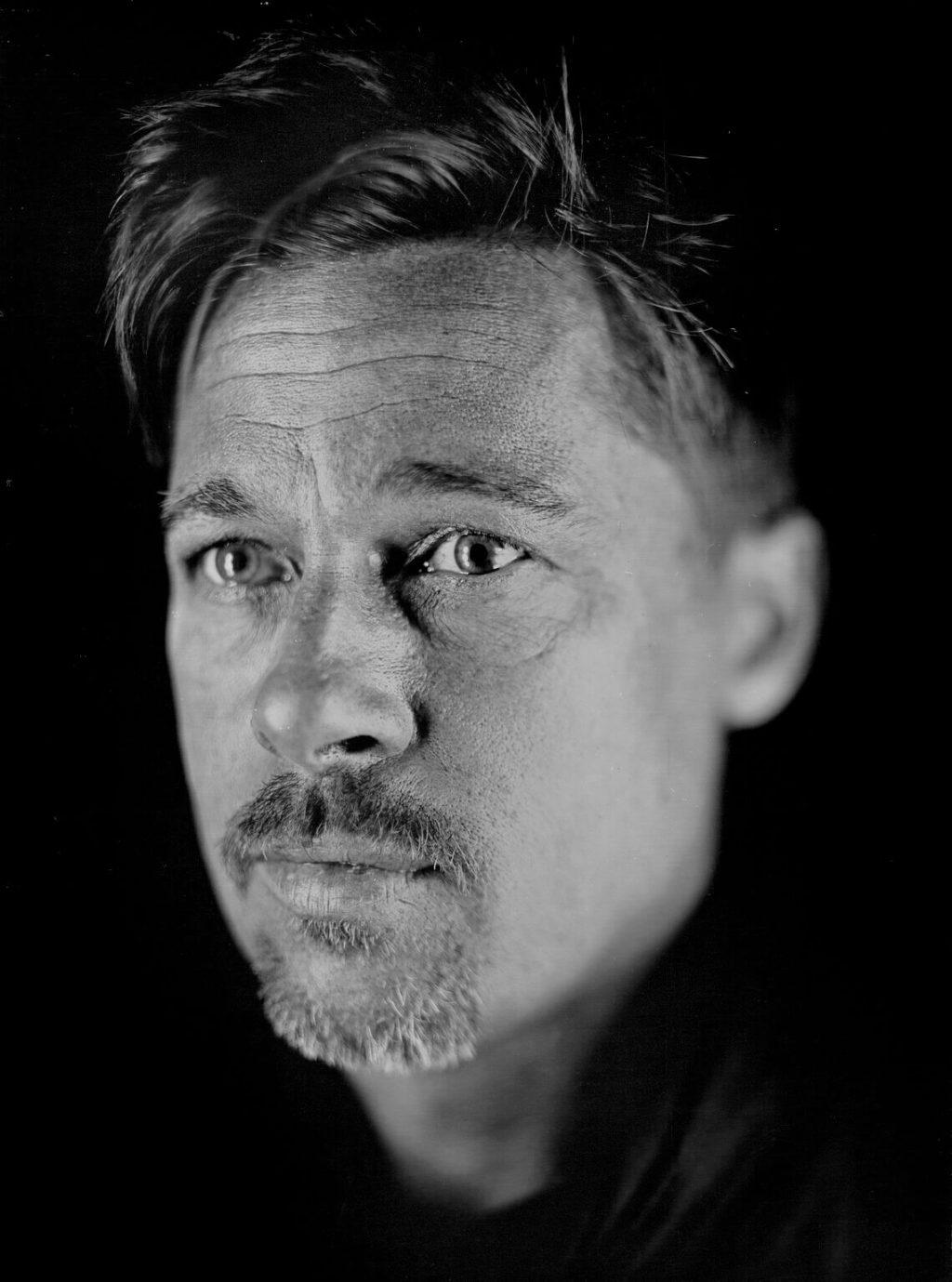 Before settling in to discuss The Curious Case of Benjamin Button­ Pitt orders a large pot of coffee ("I'm in the penthouse, I think," he tells the room service operator). In a jocular mood, Pitt says that while Benjamin Button has been on the "periphery" of his attention for almost a decade, he hesitated to commit for years in part because the role required latex jowls and bald caps. "I had sworn off all prosthetics—really," he says with a laugh, joking that earlier experiences with glue-on beards (think Legends of the Fall) taught him to insert a "quality of life" clause banning elaborate makeup into his contract. "Life is too short."
Pitt proves to be unfailingly gracious, good-humored and game for all questions, including those about his life with Angelina Jolie and their brood of six, "this cuckoo's nest that we got going on over there." He even responds to the latest installment of the Brad-Jen-Angelina saga. In November Jennifer Aniston told a journalist that an earlier comment from Jolie—that she and Pitt fell in love on the set of Mr. & Mrs. Smith, and so the film "might mean something more than we'd earlier allowed ourselves to believe"—was "uncool," because Aniston and Pitt were still married during filming. "Listen, man, Jen is a sweetheart," Pitt says, as if to settle this thing once and for all. "I think she got dragged into that one, and then there's a second round to all of that Angie versus Jen. It's so created." Of his current relationship with Aniston, he says, "We still check in with each other. She was a big part of my life, and me hers. I don't see how there cannot be [that]. That's life, man. That's life."
"What people don't understand is that we filmed [Mr. & Mrs. Smith] for a year. We were still filming after Jen and I split up. Even then it doesn't mean that there was some kind of dastardly affair. There wasn't. I'm very proud of the way that it was handled. It was respectful. [The film] will mean something to our kids. It will, that's all."
He pauses. "By nature, I keep moving, man. My theory is, be the shark. You've just got to keep moving. You can't stop."
He and Jolie have successfully spun the crass commercial potential of their notoriety into public goodwill, as when they sold baby pictures of their twins for $14 million and funneled the money into charity projects around the globe. Perhaps even more surprising is that Pitt­—along with Jolie and his friends George Clooney—has created a paradigm of Hollywood stardom that turns from self-indulgence toward good works.
In the late Nineties he was something of a slacker, "spending too much time smoking things I shouldn't be," Pitt recalls. "I was asking, What's it about? It couldn't just be wanting a successful movie or something. Then I got more engaged, started studying more and [my] interests blossomed."
Even at 45, he generates the heat of a teen pop sensation.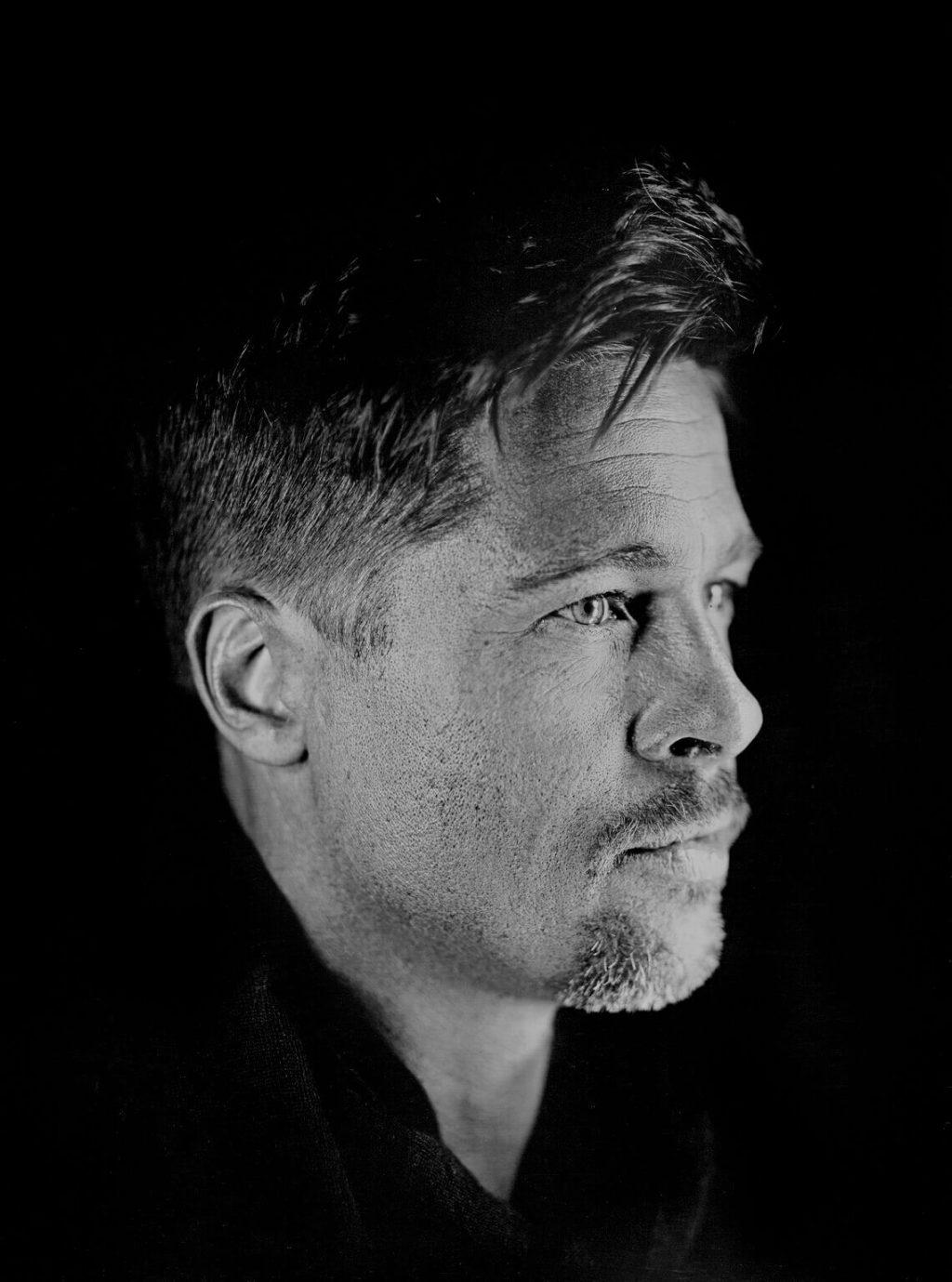 "There's no getting around the fact that the public interest in him goes far beyond explanation," acknowledges [David] Fincher, who also directed Pitt in 1995's Seven and 1999's Fight Club. "But for the first time in our working relationship, I see someone comfortable with that nuttiness. He's no longer trying to control it. He's a man at peace with who he is, and that makes it possible to give a performance like Benjamin Button."
The role, perhaps Pitt's most ambitious yet, required him to do one thing that doesn't come easily for the actor, notes Fincher: to hold still. "Brad was initially like, 'I don't want to make a movie where I don't do anything. This is a much stiller performance than he's been asked to give. When we first worked together, he'd want to know, How does my character affect this scene? He wanted to have things to do."
Pitt acknowledges that he had time to mature into the role during Benjamin Button's decade-long gestation—it went through several script overhauls and a host of directors. He recalls worrying that the central love story between his character and Blanchett's might become "the ballad of codependency," a tortured romance that he didn't care to step into. In the end, however, after hashing out the project with Fincher and screenwriter Eric Roth, he viewed it as a more adult romance, in which both parties accept the consequences of their decisions.
"It's not a classic love story in the sense. It's two individuals who want to be with the other one instead of needing the other one to complete them. It was very important to us that each one was responsible for their choices."
Pitt's elaborate makeup provides its own dramatic storyline. Daily makeup sessions lasted five to six hours. "I got to help design [the looks] a little bit. I'd go, 'I don't really like what's happening here with the jowls. Let's kick these back a little bit.' I'm sure that time will not be that graceful with me."
The heavy mask didn't smother Pitt's spark, says costar Tilda Swinton, who plays Button's first love interest when he reaches the age—with the mind of a teenager and the body of a retiree—to leave home and become a merchant marine. "I had the problematic task of delivering the line, 'So you're a seaman?'" she writes by e-mail. "Even inside high-end Hollywood latex, I saw Brad's eyes light up. The game was on."
With Benjamin Button, Pitt scratches the surface of a dark Hollywood taboo: the inevitable aging of a hugely profitable star. "I'm scared to death of death." He also acknowledges that becoming a father inspired him to give up a deadly 20-year habit. "I quit smoking," he says when asked how family life has changed him. "That was the only thing that got me to quit. That was it. Done."
As if to publicize a private epiphany about arriving at the brink of middle age, Pitt requested that artist Chuck Close, known for his super-detailed portraits that reveal every skin flaw, shoot the pictures accompanying this story. Pitt has always been a master of using press images to convey messages about his life, as when he and photographer Steven Klein created a provocative shoot in this magazine that depicted him and Jolie as a Fifties-era married couple with kids—before they had publicly acknowledged their love affair. Close suggests that the actor, who showed "no vanity" during the sitting, is once again playing with public perception.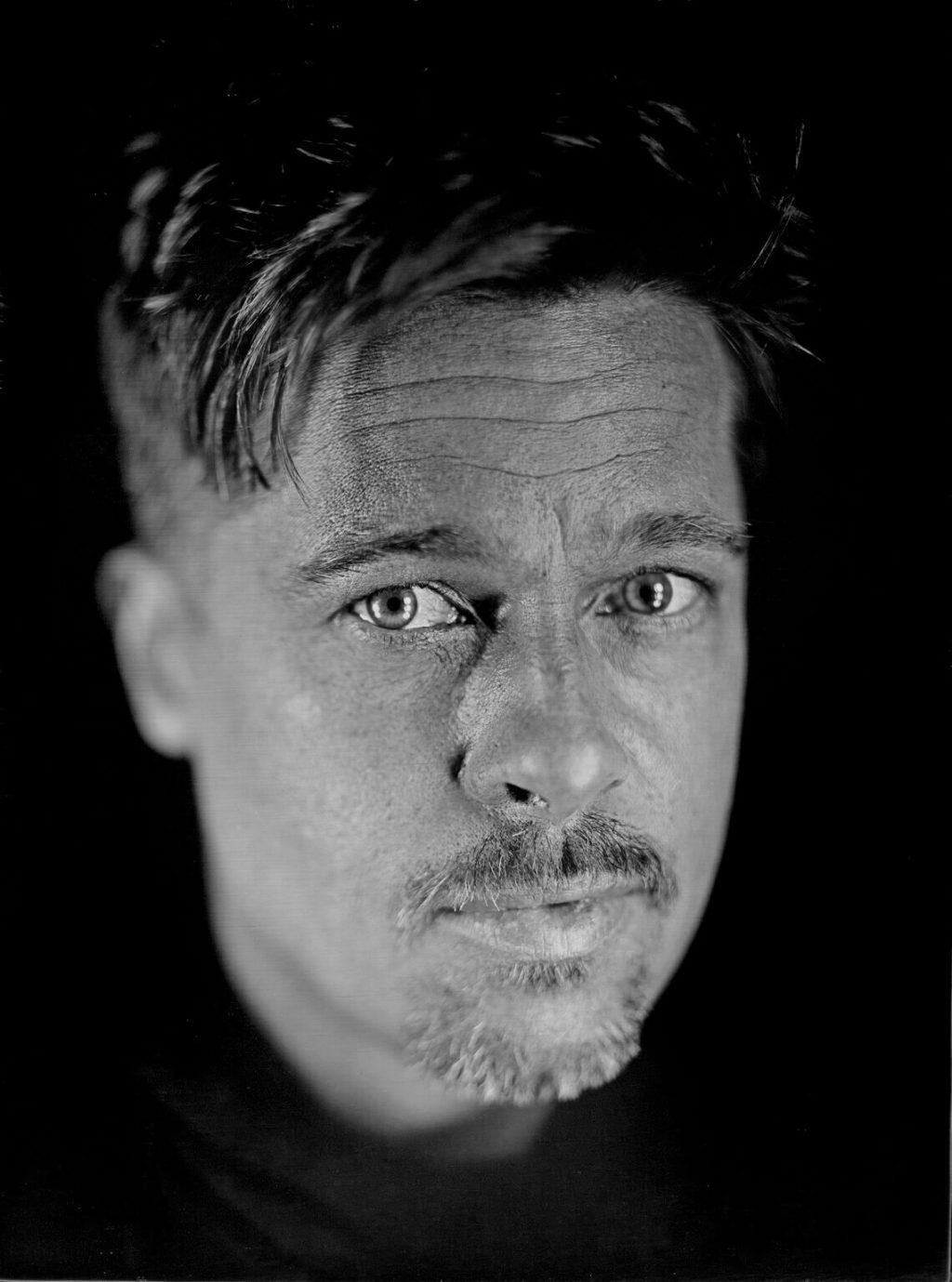 "You can't be the fair-haired young boy forever," says Close. "At some point he'll have to become some sort of character actor. Maybe a photograph of him with his crow's-feet and furrowed brow is good for him. It humanizes him."
It's a series of images that a publicist might have shot down, just as a PR rep would likely have gone apoplectic about the cover shot of Jolie breast-feeding, which Pitt photographed. But neither Jolie nor Pitt employs a media gatekeeper among their team of handlers—although both do retain brass-knuckle legal counsel. "A publicist isn't going to know as much as I'm going to know about what we want to do," says Pitt. "It just becomes more people to talk to. Man, we've got six kids. We don't have time for that. We've got to streamline. I make my own decisions for myself anyway. I've never seen a publicist that could protect me from things, protect anyone from what's going on out there."
Besides, Pitt and Jolie apparently loved doing the photo spread that accompanied Jolie's cover, a surprisingly personal album of a world-famous family at home in Provence, France. "We have fun working together; these things bring you closer," he says of the experience. "And let me tell you, it's really sexy to see your loved one through the lens. I went much further [than the shot of Jolie breast-feeding]. I didn't show those."
As he talks, Pitt occasionally breaks eye contact to stare out the window. The view affords a glimpse of his house in the Hollywood Hills, one of the "base camps" the brood inhabits in their gypsy travels between L.A., New Orleans and France.
As he gets up to leave, Pitt says that the family is awaiting him at home, where they'll all have dinner together with Pitt's parents, who are visiting from Missouri. All he must do is evade the paparazzi to get there—and he's confident he knows how. "This is my anonymity," he says, brandishing the motorcycle helmet in an upraised hand before he breezes out the door. "With it, I'm just another a**hole on the streets."
This article has been edited for girlsspeakgeek.com. The complete story appeared in
W Magazine
Feb.2009.