As one of the most-watched women in the world, Angelina Jolie, who stars in Clint Eastwood's new film, Changeling, has been photographed by thousands of strangers. But what happens when the man behind the camera is her partner and the father of her children, Brad Pitt? In these remarkably intimate and unguarded portraits, commissioned by W, Pitt captures a week in the life of Jolie and their family at home in the South of France.
Every family has its unique rites of passage. In the Jolie-Pitt household, one such event is the day a kid begins collecting daggers. Angelina Jolie and Brad Pitt's seven-year-old son, Maddox, like many boys his age, has lately developed a fondness for guns and knives, and Jolie proudly notes that the predilection runs in the family.
"My mom took me to buy my first daggers when I was 11 or 12. And I've already bought Maddox some things. We take him to a special shop." She emphasizes that the knife blades are dulled so they're not dangerous, and that the purchases are accompanied by discussions about violence. But, she says, "we also talk about samurais and about the idea of defending someone as good. We talk about everything."
Any concerns that Angelina Jolie has gone completely soft are quickly dispelled during a visit to her family's rented château in the South of France. Shortly after I'm escorted onto the 988-acre property where the family has been living since June, Jolie, who moments before was breastfeeding her seven-week-old twins, zooms up the dirt driveway in a Yamaha all-terrain vehicle, wearing a long black dress and dark sunglasses, her hair whipping in the wind. A bit later, as Jolie maneuvers the ATV over a series of potholed trails while giving a tour of the compound's Provence-perfect vineyards, forests and olive groves, she inadvertently steers us into an area where local hunters are tracking wild boar. "Bonjour!" she shouts to one bemused man who's armed with a rifle, before driving us back toward a cross fire–free zone.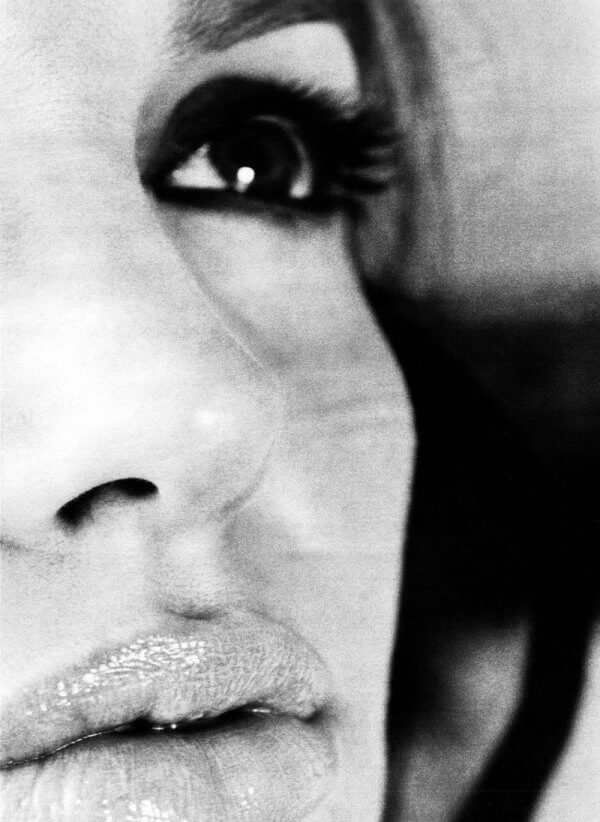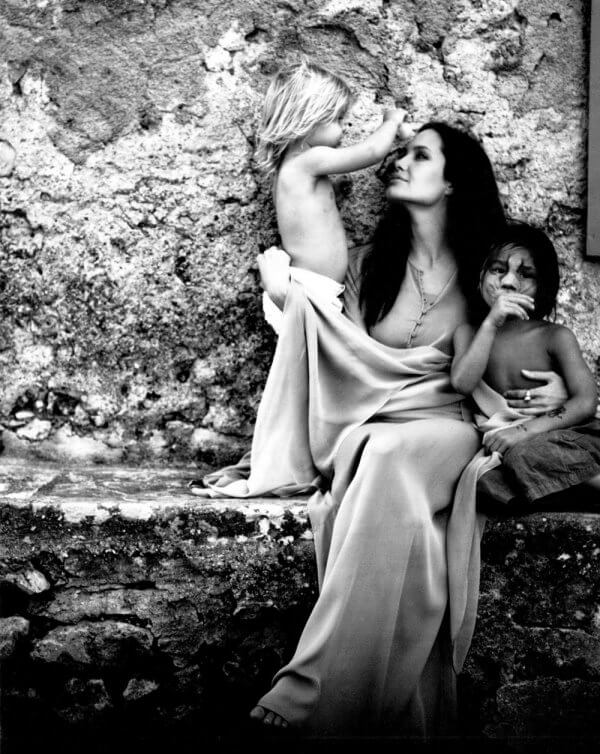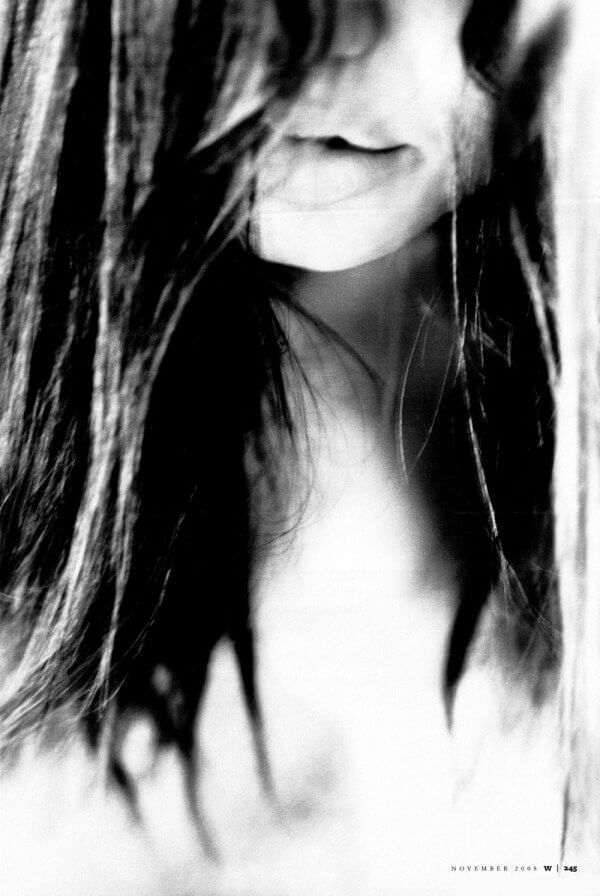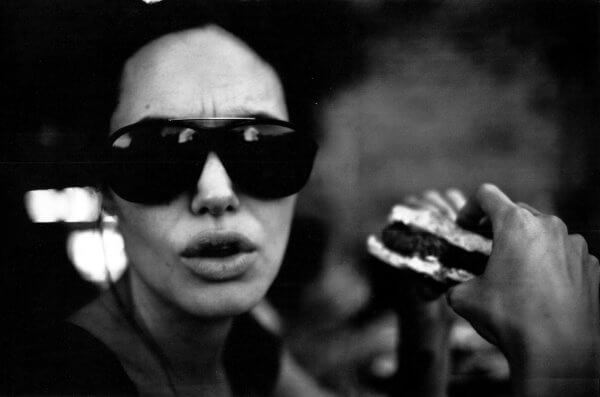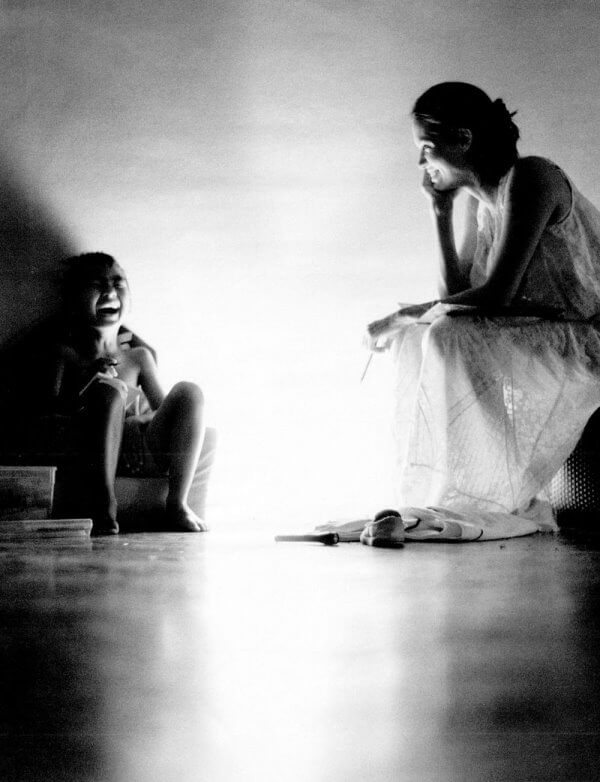 As she sits down for the interview in a stone cottage, Jolie apologizes for perhaps seeming a little drained. Pitt has been away at the Toronto Film Festival, so she's had the six kids to herself. (There are nannies, of course, including the couple's first part-time live-in helper; Jolie says she and Pitt were starting to get "loopy" while attending to the twins and trying to find enough time for the others, so for now someone stays over a few nights a week.) But if the actress is overwhelmed, or if she's savoring this rare break from round-the-clock feedings and diaper changes, she doesn't show it. She brightly mentions that she and Pitt intend to add at least one more child to the mix.
Fierce maternal instincts also lie at the heart of Jolie's latest film, Changeling. The movie, directed by Clint Eastwood, is based on the bizarre true story of Christine Collins, a demure Los Angeles telephone-company supervisor whose son disappeared one afternoon in 1928. When the boy wasn't found and no leads turned up, the corrupt LAPD, in an attempt to cover up its own negligence, tried to pressure Collins into accepting another child as her own.
As intrigued as Jolie was by the story, she initially balked at signing on for a project whose plot revolved around child abduction. "I was concerned to just even put that in my head. I didn't want the idea of a kidnapping around me." She adds that for both Pitt and her, losing a child would be intolerable—worse than losing each other. "I love Brad, and he loves me but something happening to the kids…"
For Jolie Changeling was also a strange trip back to an era when a woman who challenged the system risked persecution or, in Collins's case, confinement in an asylum. In one scene, a state-appointed psychiatrist, while making a house call to Collins, tells her that her feminine emotions are clouding her judgment. "Today, in 2008, my reaction would be to laugh in his face and kick him out of my house," Jolie says matter-of-factly. "But that's how it was and still is in many parts of the world."
For Eastwood, one challenge was making sure that the irrepressibly telegenic Jolie (who possesses, as the director says, "one of the more striking faces on the planet") could be convincing as a mild-mannered telephone operator. But he says the actress's interior work took care of the transformation. "Naturally Angelina is more beautiful than Christine Collins was, but that's showbiz." On the set, Eastwood found that Jolie's ability "to just jump right in without too much anxiety and nail it," put her in a league with a few other actors he's worked with—namely Meryl Streep, Gene Hackman and Morgan Freeman.
Jolie's performance was partly inspired by her mother, who died of cancer last year. "Her name was Marcheline, and she would joke that she was a marshmallow—just mushy and soft. When I was a teenager and she tried to yell at me to clean my room, she just couldn't. But if someone crossed her children, she was fierce. She would never speak to that person again."
The last time W interviewed Jolie, just before the release of Mr. and Mrs. Smith in the summer of 2005, it was very early in her relationship with Pitt. Much like Christine Collins, Jolie was still a single mom, living with one son. With characteristic frankness she told the magazine that she wasn't so great at being part of a couple. "I'm better alone," she said. If there were a long-term mate for her out there, she theorized, he'd be someone with similar goals and a fervent desire to "accomplish and change" things in the world.
In the three years since, Jolie has added five children and two dogs to her household, in addition to one Brad Pitt. "I do think that I'm good in a partnership now. I think it just needed to be the right man." And she believes she was correct about needing to find a shared purpose with someone. "It's not just that I love being in Brad's company, which obviously I do, but it's that we both roll up our sleeves and take on what we care about in the same way. I have a lot of respect for him, and he helps me to be better and fight hard for things that I love."
It's often been observed, rightly or wrongly, that Jolie has completely changed Pitt, transforming the Sexiest Man Alive into a tireless international do-gooder in her own image. She says Pitt has profoundly changed her. When asked for specifics, she lets out a rare bashful laugh and points out that she hasn't necessarily discussed them with Pitt himself. ("I'll try to convince him not to read this," she jokes.)
"Well, I think one of the life-changing things that he did, one of many, is that I was absolutely never going to get pregnant. I never felt that it was the right thing to do. Now I wouldn't trade that experience for the world. It taught me a lot about life, just the process of it, and now we have three other beautiful children that wouldn't otherwise be here."
How did Pitt help change her mind? "When we first met, he talked about having children in that way. I talked about only adopting children." After they had agreed that Pitt would adopt Maddox and Zahara, she recalls, "he stopped talking about having other kids in the other way. So I suppose in my heart I realized that he was happy with them as his children, completely. I knew he would never see them as different, and that gave me a certain peace. Then I suppose I just looked at him and loved him and just felt open to [getting pregnant]. I suddenly wanted to. It's one of those things you can't explain."
Jolie has left the property only once or twice in the weeks since she gave birth and claims not to pine for the stability of a permanent address or for longtime neighbors to invite over for dinner. "We have such a big family, such a close family, that we like being with each other a lot. We're happy to spend a lot of time alone and meet new people wherever we go."
And go they do: Like some unusually well-equipped and glamorous gypsy tribe, the Jolie-Pitts constantly roam from place to place, settling for a few months and then moving on to a new job or cause. Maddox has been to school in Prague and New York, had a French tutor and this fall will go to school in Germany, where Pitt is filming. "It's part of how I want to raise them," Jolie says, adding that they've shown no resistance to being uprooted. "If you tell them we're getting on a plane tomorrow, they're all excited to pack their bags, and if you say we're not coming back for months, they won't bat an eye. I think they see the world as a home. I've seen Madd run through the markets of Addis Ababa [in Ethiopia] and not notice that it's very poor, or that everyone is African or that he's Asian. It wouldn't matter to him." If Jolie has a favorite possession, she says, it's the overstuffed Tumi case that holds the family's travel documents: Vietnamese, Namibian, Ethiopian, French and American passports, plus her own UN credentials.
Asked what she thought of Roseanne Barr's much circulated Internet screed about Pitt and her—an incendiary rant that mocked, among other things, the couple's habit of earning tens of millions of dollars from violent action movies and then giving away a portion of it to convince the world that they care about humanity—Jolie appears to have no idea what I'm talking about. Told the details, she responds with a direct gaze, a calm smile and silence. Doesn't it make her angry?
"No. I mean, how should someone respond to something like that? She doesn't know me. I have nothing to defend in my life. I'm sure she's one of many people that have opinions."
Of course, the Jolie-Pitts have proven adept at slyly commandeering the celebrity gossip mill to further their own philanthropic goals. Regarding the $14 million fee paid this summer by People and Hello! for rights to the first pictures of the newborn twins (the couple donated the entire sum to their foundation), Jolie acknowledges that the figure is astounding. "There's nothing to say other than it's bizarre. But we're happy that we have our hands on it to distribute it to people we think are worthy, rather than some paparazzi."
Today, when Jolie talks about the twins and their siblings, she does so freely and openly; her stories are a lot like any young mother's. (If you must know: Zahara and Pax like to slow dance together, imitating Princess Aurora and Prince Phillip from Disney's Sleeping Beauty; newborn Vivienne is "sturdier" and "more demanding" than her brother Knox, who is "very chill" and "loves music," taking after his father.) But for insights into life chez Jolie-Pitt, the photographs accompanying this story are perhaps more revealing than anything Jolie might discuss in an interview.
Jolie says she prefers to let the photo series speak for itself, though it's clear she's an avid enabler of Pitt's burgeoning photography habit. "I love his photography. Some people have a hobby, and they find the quickest way to it and are very pleased with the outcome right away. But he's someone who will really study the camera—he'll get the most complicated one and really understand the science behind it. And he's very critical of his own work. I'll see a photograph and think it's amazing, but he'll see all the different reasons why it can be better, and he'll work very, very hard to improve it."
Pitt took these pictures a few weeks after the twins were born. Many new mothers might have hesitated to model, half dressed, for a 30-some-page magazine portfolio, but not Jolie, who doesn't find that pregnancy has made her body any less attractive. "I'm with a man who's evolved enough to look at my body and see it as more beautiful, because of the journey it has taken and what it has created. He genuinely sees it that way. So I genuinely feel even sexier."
During the next few months, Jolie plans to ease herself back into the workforce. In Edwin A. Salt (which will likely be retitled), she will play a CIA officer accused of being a double agent. Meanwhile, one pet project, the long-delayed screen adaptation of Ayn Rand's Atlas Shrugged, is coming closer to fruition. Jolie says a script is ready and discussions are in progress with various directors, including Eastwood. On the humanitarian front, the Jolie-Pitt Foundation is now building a children's tuberculosis/AIDS clinic in Addis Ababa, similar to one it already established in Cambodia; Jolie is also eager to return to the Burmese border, where she last traveled in 2004 to visit with refugees. And this fall, when the family relocates to Germany, Jolie will bring her plane so she can start flying again.
As we wind up the interview, Jolie asks suddenly, "Want to walk around?" and adds, "You might run into a bunch of small people." We head back to the garden, where a cluster of pétanque balls are scattered on the ground, and up to the empty pool. "I seem to have lost my children," Jolie deadpans. She suspects they're still where she left them, in her and Pitt's bedroom. It's become their favorite hangout lately.
"Most nights, someone ends up in our bed. They've just taken over in there—especially right now, because we want them to feel that the babies aren't special in the room. So our door is much more like a swinging door."
The Jolie-Pitt bedroom, of course, remains off-limits to journalists. And sometimes even to kids, Jolie declares.
"The kids do knock before entering. We've at least got that part down. Because Mommy and Daddy need some space."
This article has been edited for girlsspeakgeek.com. The complete story appeared in
W Magazine
Nov.2008.