Her portrayal of drug-ravaged a supermodel Gia put her on the map, but with a scene-stealing turn in Playing By Heart and rolls in two more upcoming films, Angelina Jolie is getting a chance to spread her wings.
Angelina Jolie is publicly desecrating herself. Her eyes fluttering under tightly closed to lids. She lies face down on the table in front of a window, her jeans rolled low enough to reveal her black underwear. Her white T-shirt is raised, exposing the shallow curve of her back. Her feet, clad in black cowboy boots, are demurely crossed. A group of schoolboys with backpacks stand rooted to the sidewalk outside, their gaping mouths registering expressions of both shock and joy at their good fortune. As the needle burrows into her lower back, Jolie fights the desire to laugh. It's not surprising that the actress, whose here in Montréal, shooting The Bone Collector opposite Denzel Washington, is an old hand at this. Today's imprint — a cryptic, box shaped design that she says signifies change — joins several others, including a dragon and two pointy Borneo tribal markings on her back, another dragon on her arm, and across on her thigh. "I need a lot of expression," she says that same day over lunch. "I need acting. I need talking. I need the bedroom. I need concerts. I need tattoo parlors. Throw everything at me.
She's currently starring in Playing By Heart, in which she deftly steals the limelight from the very capable likes of costars Sean Connery, Gena Rowlands, and Dennis Quaid. In this story of five couples talking about love, Jolie's character is an outgoing club kid trying to break through the outer shell of an isolated, sullen boy, played by Ryan Phillippe. "She is so vivid and alive," says Playing By Heart director Willard Carroll. "The main challenge was in not letting it go too far. As an actress, she's not timid, which is a rare thing. She will just go for it."
"She's the kind of woman who throws you off a little and confuses you," said Phillippe. "That's so much more interesting."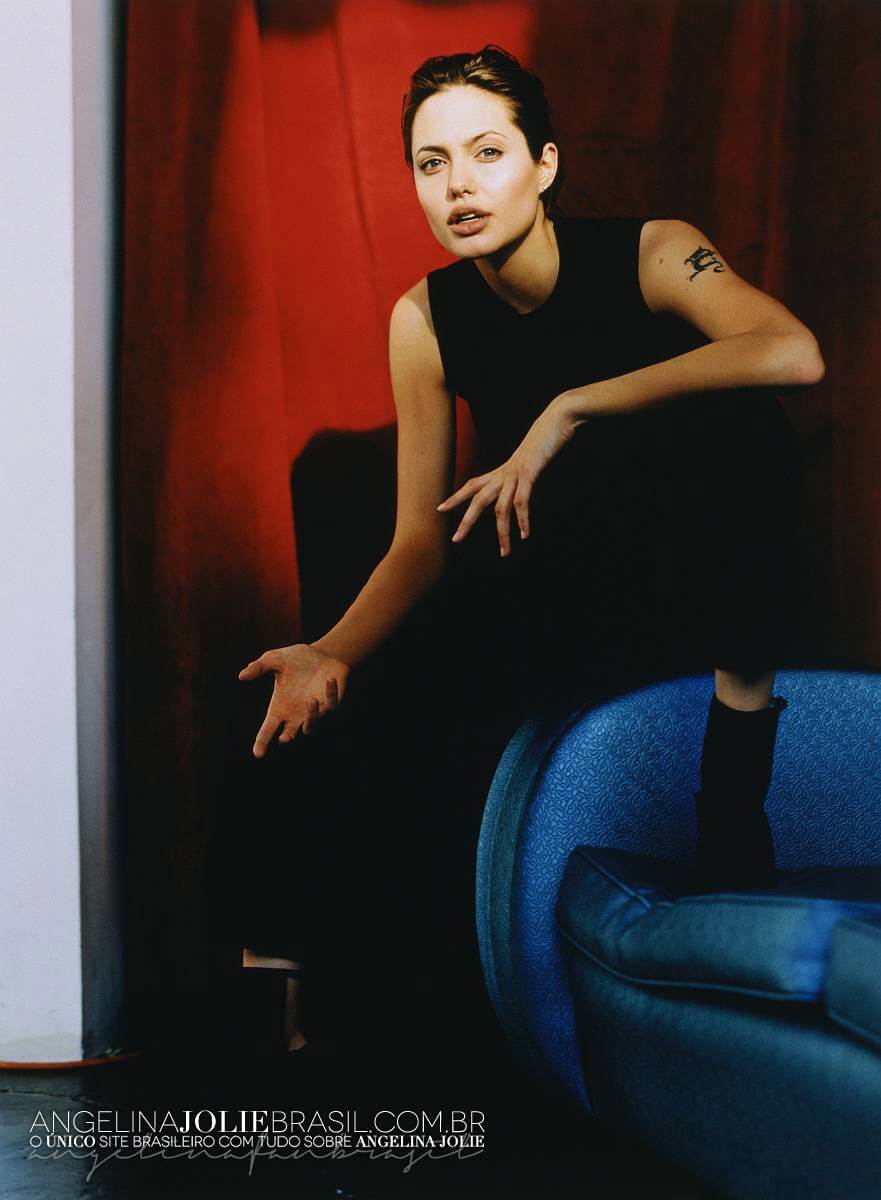 Although she appears upbeat today, Jolie admits to harboring an undercurrent of restlessness. "I'm never satisfied," she says. "I don't think I was ever more depressed in my life than the time I realized I was working in the business that I'd always wanted to be in; I was in love; I had money; and I wasn't struggling. I thought, 'Well, I have everything I'd always thought would make me really happy, and I don't feel okay.'
"It's hard for me to stay still," she adds. "I could be in a beautiful moment in a beautiful place, on vacation, and feel like… I'm caged, I have to do something now." She pauses.
"I never really disrespected my parents or wanted to cause trouble; I just wanted to have freedom," Jolie says of an adolescence that included a fascination (which continues) with knives. The latter hobby has earned her some scars — an X on her arm, a slice on her stomach, a nick on her neck. "You're young, you're crazy, you're in bed, and you've got knives," she says by way of explanation.
Having lived with a punk-rocker boyfriend in her mom's house from age 14 to 16, Jolie says she felt as if she'd "gone through a marriage." So she forswore dating, moved to an apartment across the street from her mother, and dedicated herself to theater. In 1994 she landed a part in Hackers, opposite British actor Jonny Lee Miller (Trainspotting), whom she later married, when she was twenty. Though neither was famous, the wedding gained some notoriety for the way the bride chose to celebrate her love: She drew Miller's name on her shirt in her own blood. "Everyone focuses on the blood as if it is bigger than signing a piece of paper that commits you to someone for ever," Jolie says dismissively.
Although the couple are now in the process of getting divorced, Jolie says they remain "crazy about each other." (Miller, in fact, will stay with Jolie in her Manhattan apartment when he comes to the States in a few weeks.) When pressed, however, the actress admits that the decision has not been an easy one. "It's between him and me; at the end of the day, I love Johnny," she says cautiously. "There are those times when you either hide under the covers or you get up. And I'm up."
Back in the tattoo parlor, Jolie lifts her T-shirt to model another relatively new tattoo, on her stomach: the Latin words "Quod me nutrit me destruit," which she translates as, "What nourishes me also destroys me."
"I think that somebody can only hurt you because they have driven you to points of ecstasy and happiness. It means you must take the bad and the good with life."
Aside from cradling a bottle of red wine, Jolie is not doing anything special — her big evening will involve going to a girlfriend's place to make pumpkin cheesecake – but she can't keep her radiant personality from bursting out. "I am not good at keeping things quiet," she says. "I really feel like I could die tomorrow — taking myself out or someone else taking me out. So while I'm moving and while I'm alive, I'm going to move as quickly as I can and live as much as I can." And with that, she lifts the bottle of wine to her lips, takes a sip, and confidently weaves her way forward, too distinct to disappear into the crowd.
This article has been edited for girlsspeakgeek.com. The complete story appeared in Premiere Jan.1999.