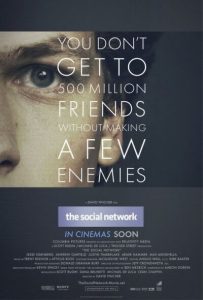 Rating: 2.75 of 5





Sorkin and Fincher took a premise that should be anti-cinematic, turned it into a movie full of almost entirely dialog and still managed to keep it engaging and have great energy. It's an impressive feat.
That being said, I didn't love it. Not because it was poorly done. Possibly because I watched a lot of the West Wing so I was used to Sorkin's snappy, smart dialog. Most likely because Zuckerberg is an unlikable character and the movie doesn't make him sympathetic. None of the other characters are that much fun either.
Theoretically, what they did is excellent. In execution it's wasn't flawed but it wasn't any fun either. I knew most of the plot so it wasn't unexpected. I know I'm in the minority but I didn't like the music. The performances weren't particularly brilliant except for their ability to manage Sorkin's dialog. Though, the dialog was very sharp.
Everything about this movie, however, just rubs me the wrong way from the arrogance of the filmmakers to Zuckerberg's arrogance to how much I dislike the characters. I want it to have an overall score of 2.5 or even 2.25 but I can't discount what they did well enough to make it that low.
| | |
| --- | --- |
| Writing: | |
| Characters: | |
| Performances: | |
| Directing: | |
| Production: | |
| Overall: | |