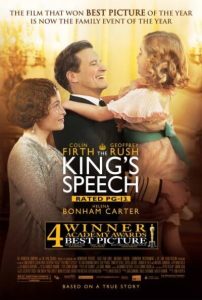 Rating: 3.25 of 5





Good, quiet sort of British film.
I liked the characters well enough, though I didn't love them. But the performances were great. I've never seen Helena Bonham Carter in such a subdued role but she was fabulous.
The story wasn't quite as intriguing as I'd liked for it to have been. But the characters were interesting enough to draw me through what little story there was. And I liked the bit of British history that I was unfamiliar with so that was interesting.
I did like The Queen better – possibly because I can relate to Elizabeth more than Bertie. (and there's something wrong with me calling them by their first names.)
| | |
| --- | --- |
| Writing: | |
| Characters: | |
| Performances: | |
| Directing: | |
| Production: | |
| Overall: | |