The last time I spoke with Angelina Jolie, she spent half our time talking about her husband, Billy Bob Thornton, and her father, Jon Voight. Soon after she went to Cambodia, where she found the new man in her life, a baby boy she adopted and named Maddox. The baby wasn't part of Billy Bob's plan for the two of them, and that very public marriage soon dissolved. Jolie's relationship with her father also went publicly south before long. When she set off to make Laura Croft Tomb Raider: The Cradle of Life, her father announced that he thought his new grandson needed greater stability than his daughter could provide and that he wanted custody over the child for that period. Voight also said his daughter needed some therapy. Billy Bob was quoted saying that if Angelina entered therapy he would consider taking her back. Jolie stopped speaking to or about either of these men. She concerned herself instead with acting, with helping refugees in Africa, Asia and Eastern Europe and with raising her new son.
The Angelina Jolie I speak with this time is far more introspective than the person I remember. Having witnessed human suffering up close in various parts of the world, she now donates time and large amounts of money to helping displaced people. The movie she'll star in this fall, Beyond Borders, is a romance set among people working with refugees.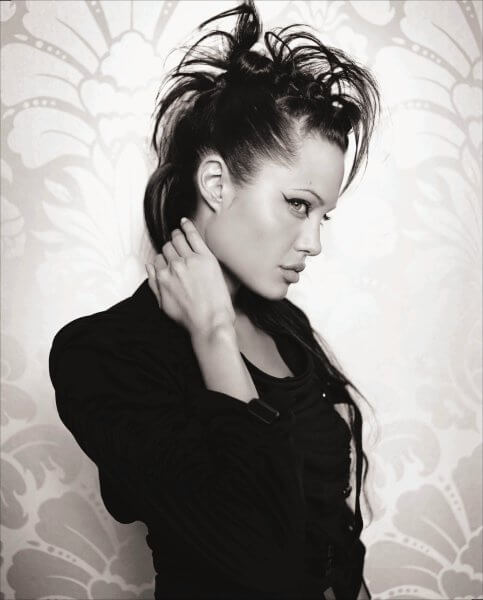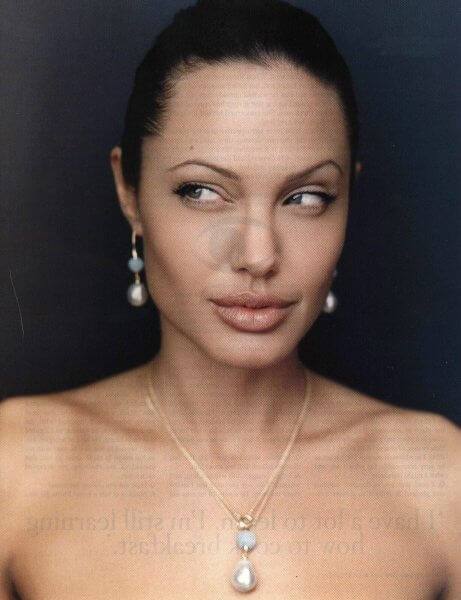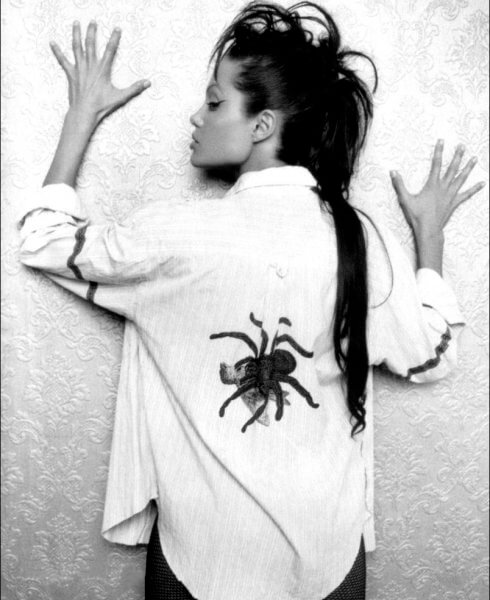 How have your experiences dealing with refugees affected you intellectually and emotionally?
It was so overwhelming, I don't know how to talk about it. It's hard to sum up these experiences because it's indescribable in a few sentences. It certainly made me a better person, made me understand human beings better, made me wish that we were all more aware of what's really going on in the world. It shocked me. I'm certainly grateful for very simple things now and I want a lot less than I've wanted before. I appreciate my family and my life and my freedoms so much more.
You decided not to attend the Oscars because of the war with Iraq. But if you had attended, would you have taken advantage of the worldwide stage to say something about the causes you support?
I don't think the Academy Awards is the place to announce that, but I think there is a place and a time, and when that time comes, of course I'll be there. I don't think I'm educated enough yet. I want to be very responsible for what I say and what I might influence.
Are you building schools in Cambodia?
I have built 12 schools in Cambodia. It doesn't take much to make big changes. I'm actually starting an animal sanctuary around where I live.
Tell me about the house you are building there.
It's in the middle of the jungle where there are tigers. I have a small child, but other neighbors and villagers have small children as well, so I have to see. It might take awhile for me to spend extended periods of time there. There's land-mined property too, so Maddox can't run free. He may have to be a bit older for us to live there, when I know he can listen to me.
Maddox wasn't in your life the last time we talked. Tell me about him.
I can't imagine life without him; he's amazing. Like any parent, I feel blessed every morning. He's only 20 months old and is the funniest person I've ever met. He's very silly and has the greatest laugh. He's very true to his country because he's very wild, but he has something peaceful about him and loves to be outdoors.
When you went to adopt a child, how did you know he was the one?
I decided I was only going to go to one orphanage and adopt an orphan child. So when I went in there were about 15 children. A few had been adopted and a few were unadoptable because of illness. I was followed around by two-year-old and thought it was a sign, so I almost adopted him. Mads was the last – he was dead asleep when I met him and when he opened his eyes, he smiled, so I figured that he liked me. He kind of accepted me, and I sensed he felt he'd be okay with me as his mom. It made sense to me, that instead of me choosing, we accepted each other.
How did you choose a name?
Maddox is just a name I love. He also as a Khmer name, Chivan. That's his middle name.
How has being a mother made you more focused?
I became more focused before I decided to be a mother. Maddox made my life are focused but also caused huge amount of chaos, in a beautiful way. I've never cleaned so much and crawled on the floor so much – and I wouldn't trade it for anything.
For the first Tomb Raider you learned to box, shoot and paddle a canoe. What have you learned for the second?
Kendo stick fighting, jet skiing, quick horse riding, rifle shooting, rappelling. I love kendo. I think there's something great that you can pick up a broom and attack.
Were you surprised at how much money the first one made?
I was more relieved that it did fine and people were satisfied. I had never been involved in a summer movie before, and I was surrounded by people who were so aware of what the first weekend did and what that meant. I hated it. I'm not looking forward to going through that again because it's not what this is about, and yet for these films it's part of it.
Were you satisfied with the first one?
I wouldn't have done the second one if I thought we did the first one perfectly. There's a lot I still wanted to do or do differently or do better.
Is it true your love interest in the film is also the villain?
We've got quite a few villains in it. There are five really strong men in this movie, which became kind of a joke. We thought about what kind of man would be an equal for Lara Croft. We figured five would do.
West said that for the first one he wanted you because you have a dark edge. How much of that is who you are, and how much of that is a media creation?
I'm capable of being stronger and darker and fiercer than anybody's ever written, but in the way they're talking about, it's in the showy, silly way. I now have a sense of purpose and something to protect in my life, and I think I'm capable of quite a lot. When I was younger, I had no channel for all my energies, and that's what caused a lot of that angst and that wild side or what's considered dark. To be honest, it's that fight inside of us that makes you go to the middle of a different country or be willing to stand at a place where danger is, to do something good or do anything to protect your child.
Beyond Borders, which will come out in the fall, is more of a serious movie dealing with relief efforts in the war-torn nations. How did making it affect you?
It was the most wonderful experience I ever had making a film because it's absolutely where my heart and soul lie. The middle section of the film takes place on the Cambodia-Thai border in 1978, which is Mad's history and his people. It's not just about refugees or war zones; it very much about people. It's an epic love story.
What stars would you say you have the most chemistry with?
Clive and I have very good chemistry, some of the best I've had. Johnny [Lee Miller] and I had very good chemistry.
How about Denzel Washington, your costar in The Bone Collector?
With Denzel it was so cerebral. There's a side of Denzel that's a thinker and there's a side of me that's a thinker and we got on really well.
What about with Ed Burns, your costar on the more recent Life or Something Like It?
I think Ed would be the first to tell you he and I had no chemistry, which we thought was funny. We were whales out of water.
A circus was made at your last marriage and divorce. I know you don't want to be asked about Billy Bob or about your father, but is there anything at all you'd be willing to talk about at this time?
I really have nothing to say. Especially about my father. Like most families, we have complicated relationships that go deep. There are reasons why we aren't friends. I've moved on and I'm trying to stay in a strong and healthy place so I can do good things with my life and be a really good parent.
The last time we spoke, half our conversation was about Billy Bob. Do you have any regrets about being so publicly in love?
I know every time I said something nice about him it made him very happy, so at the time that was worth it. I don't believe in regret. You learn and you move on. If you decide to share things in your life with the public, then you share. We both had similar darkness in our lives, and we both had found a best friend we could laugh with and that's a beautiful thing. That was the best thing about our relationship–we made each other smile. And that friendship will be missed.
Is there anything you can say you've learned about fathers and husbands?
No, because I assume everybody is different. I know that Maddox doesn't have certain male figures in his life, but I will find a way to balance that. He does have men in his life, just none that are involved with his mother.
Have you added any tattoos since you adopted Maddox?
I have a big one on my back left shoulder that I got during Beyond Borders in a very traditional tribal way with a long needle, tapping. It's a prayer of protection for him.
It's rumored that you've been dating your former husband, Jonny Lee Miller. Any truth to that?
No, we've been good friends since we divorced, but I'm not dating anybody and I have no real plans to. I'm quite happy. I don't not believe in love, but it's not something I'm going to focus on or look for.
In an Esquire piece three years ago, you were portrayed as hypersensitive, confused and struggling to be human under the immense pressure of modern fame. Any of that accurate?
Sure. I'm a very sensitive and emotional person. How can any balanced human being not be affected by strangers having an opinion about you, talking about whether they love or hate you? I'm starting to figure out who I am and I realized that I will be changing. I don't read magazines any more, that was a big change. It was a very clear moment of my life when I was on this plane being handed tea and Vogue and Elle magazines. My mind immediately became concerned with all these material things that I should have and I was reading this criticism of people, and suddenly I realize how influenced we are by what we have around us.
What is a typical day off like for you when you're not filming?
I am still collecting knives: I've collected some in Africa. I spend free time with Mad learning about how to be a better parent. I have a lot to learn. I'm still learning how to cook breakfast.
How strong do you feel you are?
I'm proud of the fact that I'm here, I've got my son, I'm still alive. I have a sense of purpose. It's nice to know that even when we go against ourselves or we get lost or feel misplaced, it's still possible to be able to say: "I survived."
This article has been edited for girlsspeakgeek.com. The complete story appeared in
Movieline
Jul.2003.