There's a desert valley in southern Jordan called Wadi Rum, or sometimes "the Valley of the Moon." There are stone inscriptions that are more than 2,000 years old. Lawrence of Arabia passed through there during the Arab Revolt against the Ottoman Empire. More recently, J. J. Abrams went there to film parts of the latest Star Wars movie, The Rise of Skywalker, because it's largely uninhabited and starkly beautiful and looks plausibly alien, and one of the things that has always made the Star Wars movies feel so real is the way they're shot on location, with as few digital effects as possible. George Lucas shot the Tatooine scenes from A New Hope in southern Tunisia. For Skywalker, it's Wadi Rum.
"It's the things that you can't anticipate—the imperfections," says Oscar Isaac, who plays the Resistance pilot Poe Dameron. "It's very difficult to design imperfection, and the imperfections that you have in these environments immediately create a sense of authenticity. You just believe it more." When Isaac arrived in Wadi Rum for his first week of shooting, Abrams had set up a massive greenscreen in the middle of the desert. "And I was like, 'J. J., can I ask you a question? I notice we're shooting on greenscreen.' And he's like, 'So why the hell are we in the desert?' And I'm like, 'Yeah!' And he said, 'Well, because look: the way that the sand interacts with the light, and the type of shots you would set up—if you were designing the shot on a computer you would never even think to do that.' There's something about the way that the light and the environment and everything plays together."
Abrams talks rapidly, as if he can barely keep up with the things his racing brain is telling him to say. When I told him that not only was Star Wars the No. 1 trending topic on Twitter, but that all 10 of the Top 10 trending topics were Star Wars–related, and that he personally was No. 5, he was visibly stunned.
Then he recovered enough to say: "Well, I aspire to No. 4."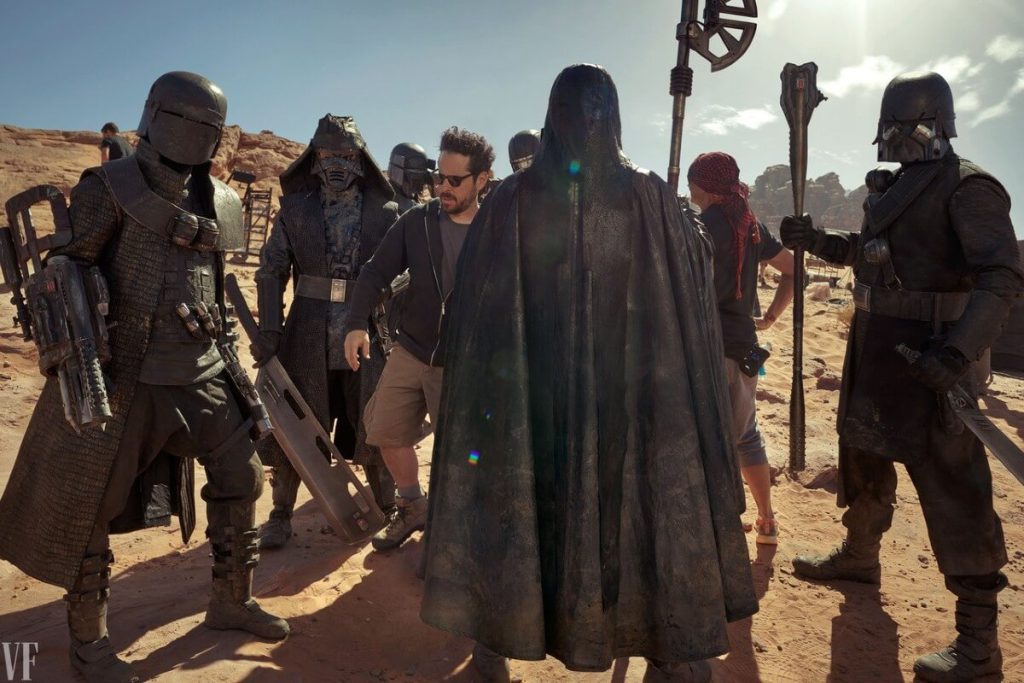 We all thought the story was over in 1983 with Return of the Jedi, and then we really thought it was over in 2005 with Revenge of the Sith. Now Abrams has to gather all those threads and bring closure to a story that was started by somebody else. "That's the challenge of this movie. It wasn't just to make one film that as a stand-alone experience would be thrilling, and scary, and emotional, and funny, but one that if you were to watch all nine of the films, you'd feel like, Well, of course—that!"
Star Wars came really close to never happening in the first place. In 1971, Lucas was a serious young auteur just five years out of film school at U.S.C. He had only one full-length movie on his résumé, and that was THX 1138. Everybody expected Lucas to go on and make serious, gritty 1970s cinema like his peers, Brian De Palma and Francis Ford Coppola. At the time Lucas and Coppola were actively planning a radical epic set in Vietnam with the provocative title Apocalypse Now.
But Coppola would have to finish that one on his own, because Lucas went a different way. "I had decided there was no modern mythology," he said in 1997. "I wanted to take old myths and put them into a new format that young people could relate to. Mythology always existed in unusual, unknown environments, so I chose space." Lucas tried to acquire the rights to Flash Gordon but when he couldn't, he came up with his own original science-fictional epic instead. He called it The Star Wars.
Even though American Graffiti had made Lucas a bankable director, Star Wars still came together slowly. In the first draft, Luke was an old man, Leia was 14, and Han Solo was "a huge green-skinned monster with no nose and large gills." Fox executives were baffled by Star Wars, and they squeezed Lucas relentlessly for time and money. To make Greedo's mouth move, the woman in the Greedo suit had to hold a clothespin in her mouth. "What I remember about working on the first film," says John Williams, "is the fact that I didn't ever think there would be a second film." (He also, like everybody else, thought Luke and Leia were going to get together, so he wrote them a love theme.)
"I realized after THX that people don't care about how the country's being ruined," Lucas said. "We've got to regenerate optimism." Like American Graffiti, Star Wars is a work of profound nostalgia, a post-Vietnam, post-Watergate anthem of longing for the restoration of a true and just power in the universe—the return of the king. And at the same time it's a very personal hero's journey, about a boy who must put right the sins of his father and master the strange power he finds within himself, and in doing so become a man.
Science fiction often ages badly, turning into kitsch or camp but Star Wars hasn't. More than any filmmaker before him, Lucas successfully imagined what a science-fictional world would feel like to somebody who was actually inside it—which is to say, it would look as ordinary and workaday as the present.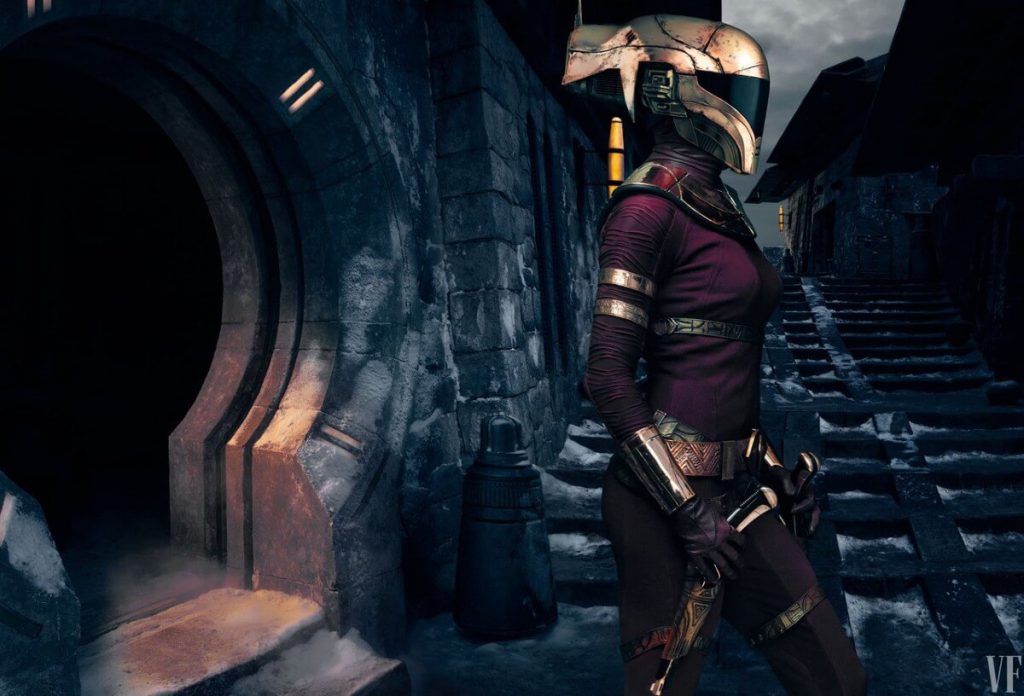 When Lucas made the first Star Wars sequel, The Empire Strikes Back, he cheekily labeled it Episode V, then went back and re-labeled the first movie as Episode IV, as if the movies were an old-fashioned serial that the rest of us were all just tuning in to. Around that time, he also started talking about Star Wars as a nine-part epic—so in 2012, when Lucas retired and sold Lucasfilm to Disney, it wasn't exactly heresy that Disney announced more movies.
At first blush, Abrams's debut Star Wars movie, The Force Awakens, looked like an elaborate homage to the original. Everything possible was shot on location using film cameras, not digital ones. Even Lucas had abandoned that approach by the time he made the second Star Wars trilogy. "Famously, the prequels were mostly greenscreen environments," Abrams says. "And that was George himself doing that, and it ended up looking exactly how he wanted it to look—and I always preferred the look of the original movies, because I just remember when you're in the snow on Hoth, when you're in the desert on Tatooine, and when you're in the forests of Endor—it's amazing. If you put a vaporator here, there, all of a sudden almost any natural location suddenly becomes a Star Wars location."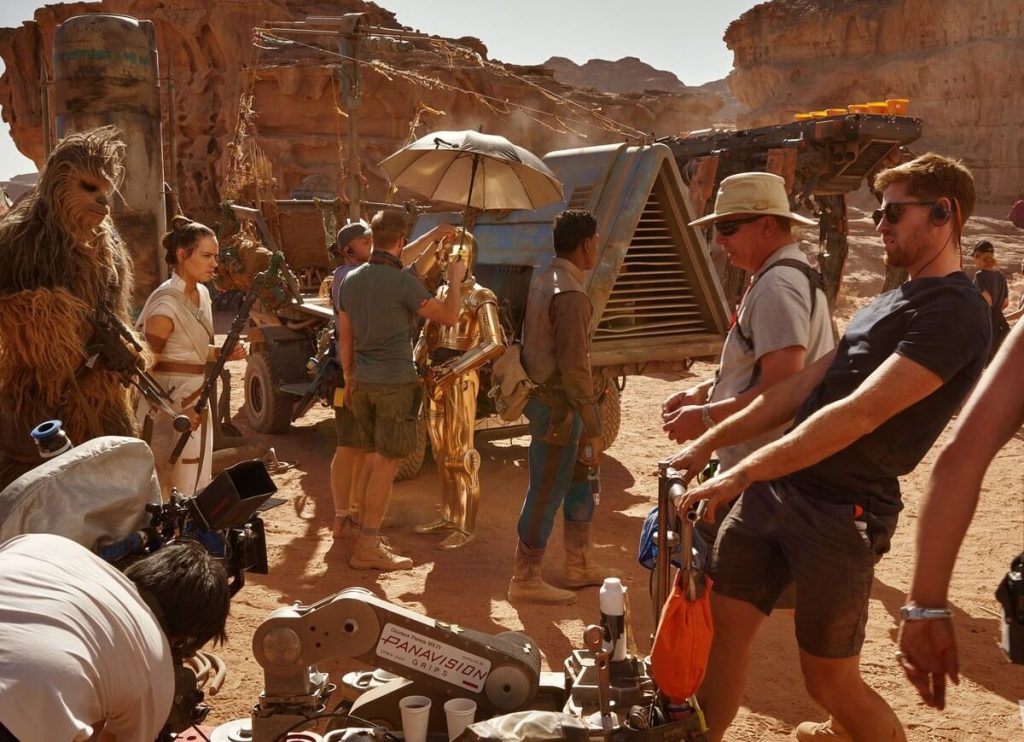 But the more interesting thing about The Force Awakens and its successor, The Last Jedi, written and directed by Rian Johnson, was how they subtly complicated Lucas's vision. Thirty years have gone by since the ending of Return of the Jedi, during which time the newly reborn Republic became complacent and politically stagnant, allowing the rise of the First Order. "It was almost like if the Argentine Nazis had sort of got together and actually started to bring that back in some real form," Abrams says. Just like that, the rules of the Star Wars universe changed. Even Han and Leia split up. It's all a little less of a fairy tale now.
The feather-haired godling Luke suffered the trauma of having a Padawan go bad on his watch. It's an echo of what happened to his old mentor, Obi-Wan, with Anakin Skywalker, who became Darth Vader. But where Obi-Wan made peace with it, waiting serenely in the desert of Tatooine for the next Chosen One to arrive, Luke's guilt curdled into shame. He hid himself away, so that his Chosen One, Rey, had to spend most of The Force Awakens searching for him, and then another whole movie convincing him to keep the Jedi Order going at all. Star Wars arrived as an antidote to the disillusionment of the 1970s—but now, in its middle age, Star Wars is grappling with disillusionment of its own.
The only other member of the old guard on the set this time was Billy Dee Williams, who plays Lando Calrissian. At 82, Williams has lost none of his roguish charm, but now it comes wrapped in a kind of magisterial dignity. "He's a survivor. It's expediency for him. You know, he was thrown into a situation which he didn't look for and he had to try to figure out how to deal with an entity which is more than just a human." And, he adds, with the weary air of somebody who has spent way too much time justifying the behavior of a fictional character, "nobody died!"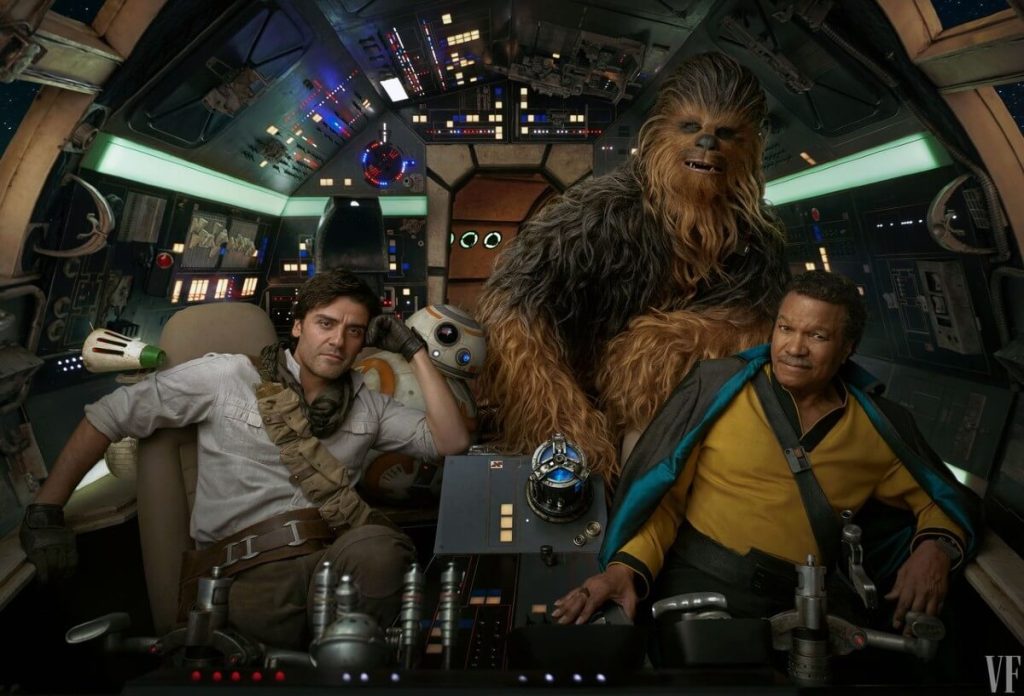 Chewbacca is still here, too, but it's not the same man in the suit. The original actor, Peter Mayhew, was a seven-foot-three-inch gentle giant who was working as a hospital orderly in London when Lucas cast him in the first movie. Mayhew retired after The Force Awakens, and he died on April 30 at 74. His replacement is Joonas Suotamo, a fresh-faced former professional basketball player from Finland who always wanted to be an actor but was hard to cast because he's six feet 11 inches tall. "When I first met [Mayhew] he told me I was a wee bit too skinny," Suotamo says. "But we also had a Wookiee boot camp, which lasted for a week. He told me all kinds of things about the moves that Chewbacca does, how they came to be and his reasoning behind them." Suotamo has now played Chewbacca in four movies and enjoys it about as much as I've ever seen anybody enjoy anything. "It's very much like silent-era film, with Buster Keaton and Charlie Chaplin. "He's a mime character and that's what he does, and I guess in that minimalism comes the beauty of the character."
The hottest area for speculation is the identity of the titular Skywalker, because at this point there aren't many Skywalkers left to rise. One is General Organa, the former Princess Leia, Luke's sister—but Carrie Fisher passed away in 2016. That was a deeply painful loss for Abrams personally, but it also presented him with an impossible choice as a filmmaker. He needed Leia to tell the story, but Abrams didn't feel like a digital Carrie Fisher could do the job, and there was no way Lucasfilm was going to re-cast the role.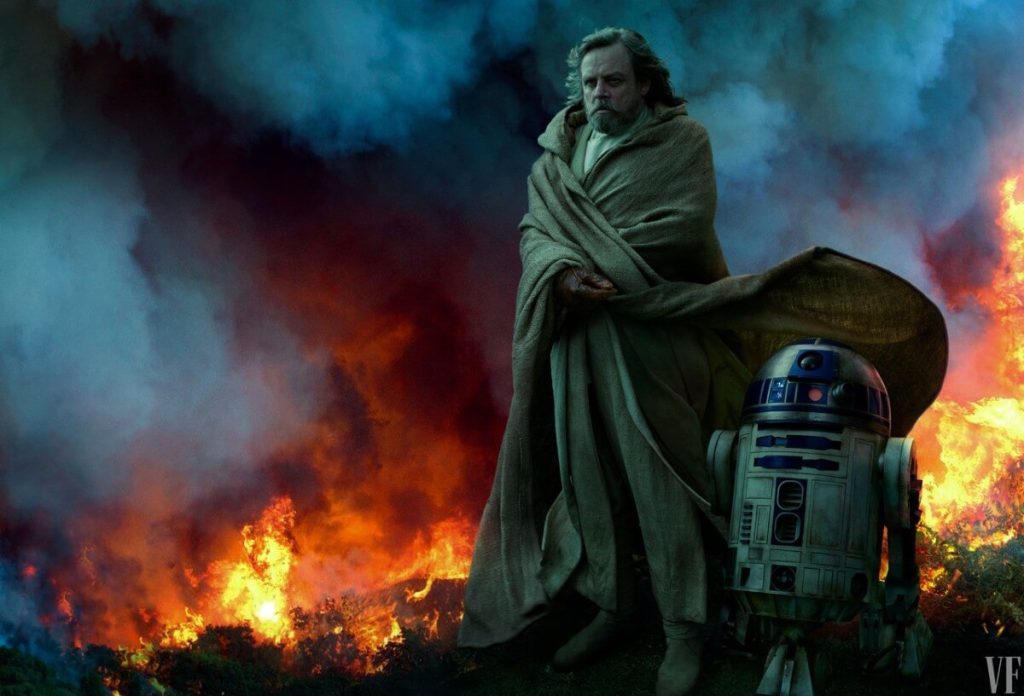 But then a strange thing happened. Abrams remembered that there was some footage of Fisher left over from The Force Awakens, scenes that had been changed or cut entirely, and he dug them up. "It's hard to even talk about it without sounding like I'm being some kind of cosmic spiritual goofball," Abrams says, "but it felt like we suddenly had found the impossible answer to the impossible question." He started to write scenes around the old footage, fitting Leia's dialogue into new contexts. He re-created the lighting to match the way Fisher had been lit. Bit by bit, she found her place in the new movie. "It was a bizarre kind of left side/right side of the brain sort of Venn diagram thing, of figuring out how to create the puzzle based on the pieces we had." Fisher's daughter, Billie Lourd, appears in the movies as a Resistance officer named Lieutenant Connix. "And so, there are moments where they're talking; there are moments where they're touching," Abrams says. "There are moments in this movie where Carrie is there, and I really do feel there is an element of the uncanny, spiritual, you know, classic Carrie, that it would have happened this way, because somehow it worked. And I never thought it would."
The only other member of the surviving Skywalker bloodline is Leia's son and Luke's former Padawan, the fallen Jedi Kylo Ren.
Presumably whatever's eating at Kylo started in his childhood. Driver—who has obviously thought this through with a lot of rigor—points out that, as cool as they are, Han and Leia are both obsessively committed to lifestyles (smuggling, rebelling) that don't leave much room for kids. Instead he grew up under the crushing pressure of massive expectations. "How do you form friendships out of that? How do you understand the weight of that? And if there's no one around you guiding you, or articulating things the right way … it can easily go awry." By the emotional logic that governs the Star Wars universe Kylo Ren is going to have to confront the past, and his fears, whatever they are, or be destroyed by them.
Where Lucas's trilogies tended to follow the roots and branches of the Skywalker family tree the new movies have a slightly wider aperture and take in a new generation of heroes. There's Rey, of course.
If Kylo Ren can't be redeemed it will almost certainly fall to Rey to put him down, in spite of their maybe-bond. Their relationship is the closest thing the new trilogy has to a star-crossed love story on the order of Han and Leia: a source close to the movie says that their Force-connection will turn out to run even deeper than we thought. They're uniquely suited to understand each other, but at the same time they are in every way each other's inverse, down to Kylo's perverse rejection of his family, which is the one thing Rey craves most. "I think there's a part of Rey that's like, dude, you had it all," Ridley says. "That was always a big question during filming: you had it all and you let it go."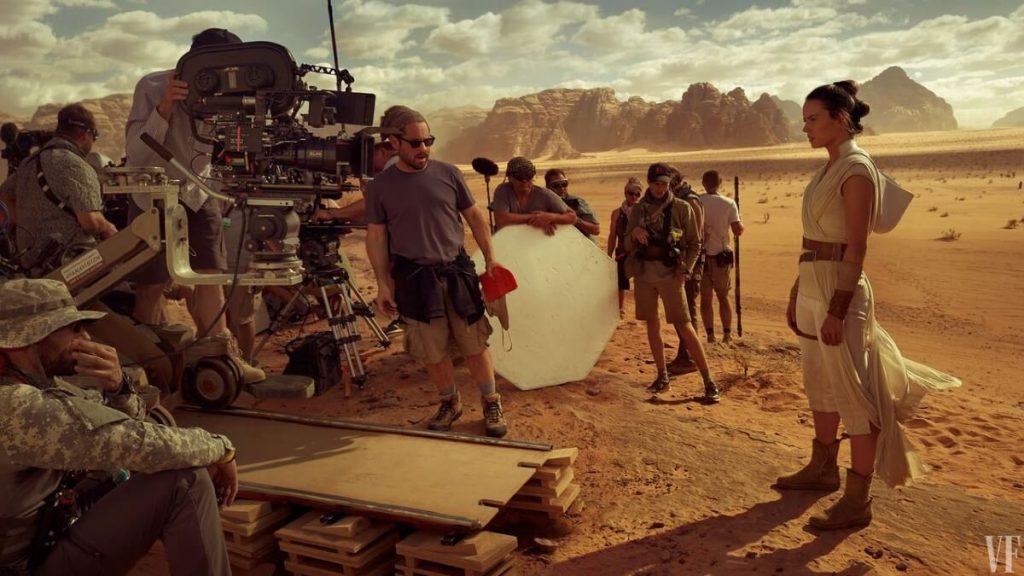 "It's nice having that shot at the beginning of the teaser," Ridley says, "because I think it's quite a good visual representation of where she is now: confident, calm, less fearful.… It's still sort of overwhelming, but in a different way. It feels more right—less like inevitable and more like there's a focus to the journey." I asked Ridley what she's thinking about when Rey is using her Force powers, and it turns out Rey seems focused because Ridley is actually seriously focused. "I literally visualize it. When I was lifting rocks I was visualizing the rocks moving. And then I was like, Oh, my God, I made it happen! And obviously there's loads of rocks on strings, so, no, I didn't. But I visualize that it's really going on."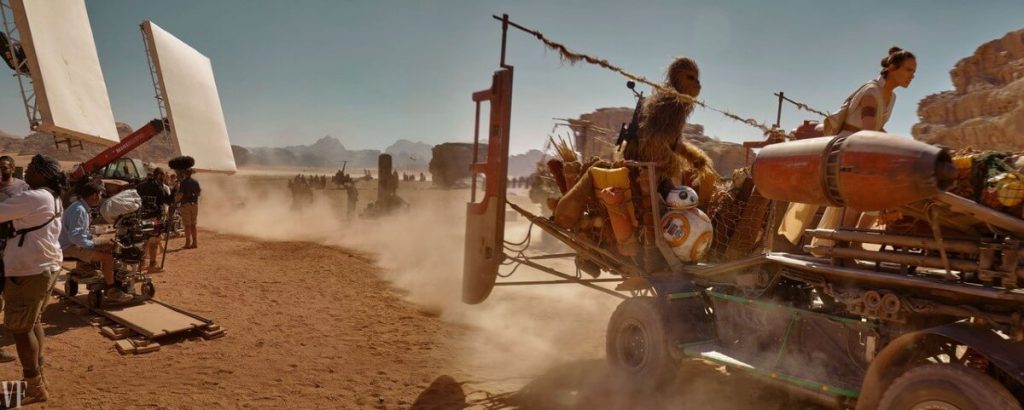 And there's Poe, who has mostly struggled with his own cocky impulsiveness, because he's a loose-cannon-who-just-can't-play-by-the-rules. Poe will have to step up and become a leader, because the Resistance is seriously short on officer material. The Rise of Skywalker picks up about a year after the end of The Last Jedi. "There has been a bit of shared history that you haven't seen," Isaac says. "Whereas in the other films, Poe is this kind of lone wolf, now he's really part of a group. They're going out and going on missions and have a much more familiar dynamic now."
Between 1977 and 2005, Lucasfilm released six Star Wars movies; when Skywalker premieres in December, Disney will have released five Star Wars movies in five years. "I think there is a larger expectation that Disney has," Kennedy says. "On the other hand, though, I think that Disney is very respectful of what this is, and right from the beginning we talked about the fragility of this form of storytelling. Because it's something that means so much to fans that you can't turn this into some kind of factory approach. You can't even do what Marvel does, necessarily, where you pick characters and build new franchises around those characters. This needs to evolve differently."
A useful example of that fragility might be Solo: A Star Wars Story in 2018. Solo was a perfectly good Star Wars movie that has made almost $400 million worldwide—but it's also, according to industry estimates, the first one to actually lose money. In response Disney has gently but firmly pumped the brakes.
You realize now that, under Lucas, Star Wars always slightly had the brakes on—we were always kept a little starved for product. With Disney driving, we'll really find out how big Star Wars can get.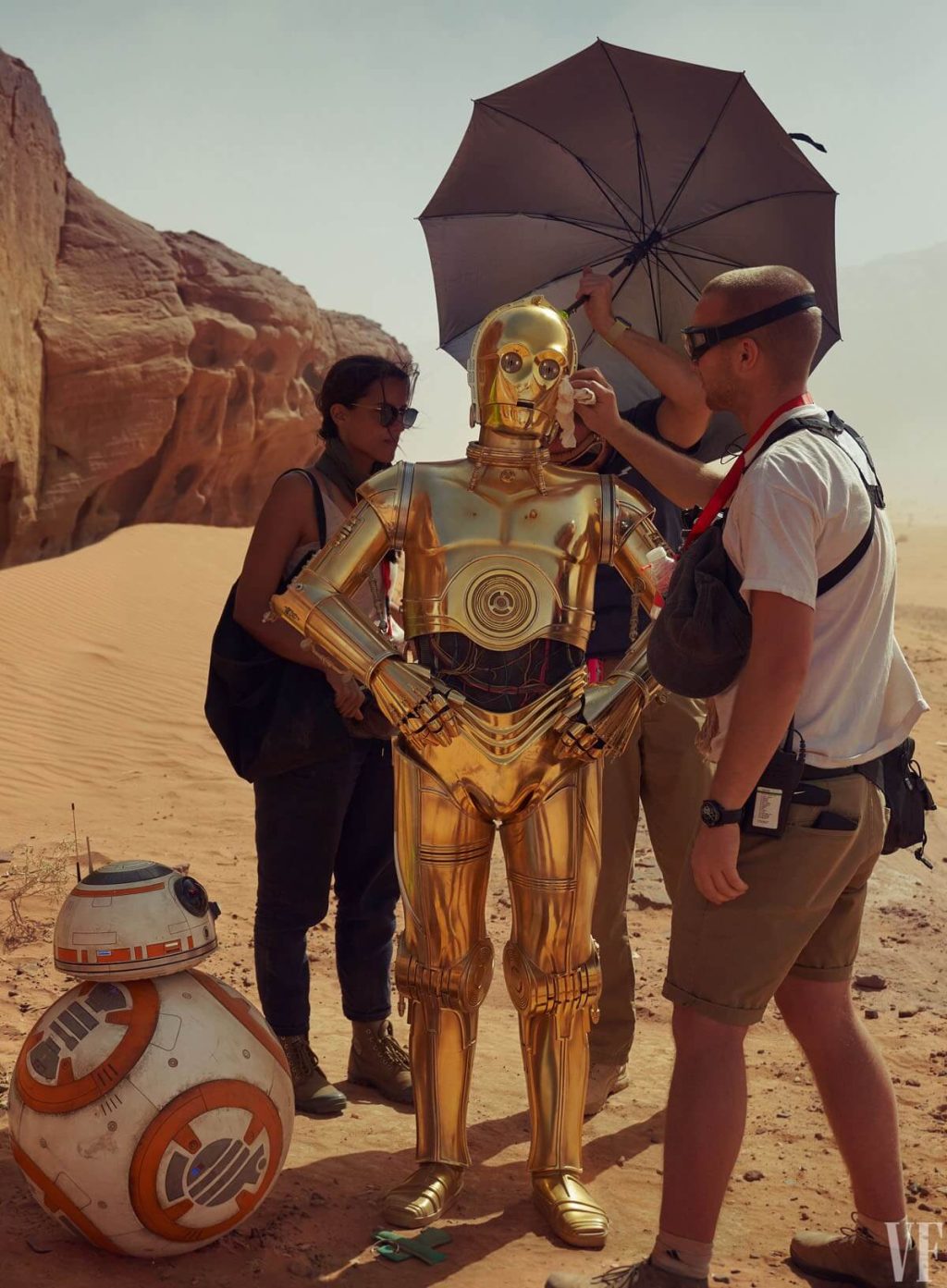 "There's a loss of innocence, a sense of innocence that existed in the 70s that I don't think to any extent exists today," Kennedy says. "I think that has to permeate the storytelling and the reaction to the stories and how they're set up. It has to feel differently because we're different."
"Evil needs to feel and look very real," Kennedy says, "and what that means today may not be as black-and-white as it might have been in 1977, coming off a kind of World War II sensibility."
"Working on nine, I found myself approaching it slightly differently," Abrams says. "Which is to say that, on seven, I felt beholden to Star Wars in a way that was interesting—I was doing what to the best of my ability I felt Star Wars should be." But this time something changed. Abrams found himself making different choices—for the camera angles, the lighting, the story. "It felt slightly more renegade; it felt slightly more like, you know, I'm going to do the thing that feels right because it does, not because it adheres to something."
There are a lot of small subtle ways that Abrams's Star Wars is different from Lucas's, but if there's a standout, it's the way that the new movies look at history. Lucas's Star Wars movies are bathed in the deep golden-sunset glow of the idyllic Old Republic, that more civilized age—but the new movies aren't nostalgic. They don't long for the past; they're more about the promise of the future. "This trilogy is about this young generation, this new generation, having to deal with all the debt that has come before," Abrams says. "And it's the sins of the father, and it's the wisdom and the accomplishments of those who did great things, but it's also those who committed atrocities, and the idea that this group is up against this unspeakable evil and are they prepared? Are they ready? What have they learned from before? It's less about grandeur. It's less about restoring an old age. It's more about preserving a sense of freedom and not being one of the oppressed."
"The idea of the movie is kind of how I felt going into the movie as a filmmaker," Abrams says, "which is to say that I've inherited all this stuff, great stuff, and good wisdom, and the good and the bad, and it's all coming to this end, and the question is, do we have what it takes to succeed?"
This article has been edited for girlsspeakgeek.com. The complete story appeared in
Vanity Fair
May.2019.