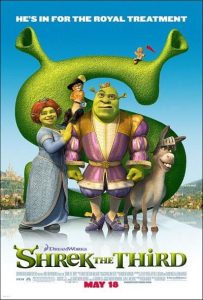 Rating: 2.5 of 5





I was surprised at how much I enjoyed Shrek 2, so I actually was sort of looking forward to Shrek 3.
It's cute and kind of fun, pretty much what you'd expect from Shrek. But I don't think it had the fun energy that 2 created with such good music. Ok, particularily Accidentally in Love and Jennifer Saunders version of I Need a Hero. They kind of made Shrek 2 for me.
Shrek 3 didn't have any of that. And I'm so over these characters. And it's not as clever as it thinks it is.
| | |
| --- | --- |
| Writing: | |
| Characters: | |
| Performances: | |
| Directing: | |
| Production: | |
| Overall: | |