Ryan Reynolds has been living in the Berlin hotel for five weeks while shooting the director Marjane Satrapi's The Voices. I chose this gallery in the Mitte neighborhood because it was walking distance from the hotel and, from the photos on its website, seemed to be hosting an exhibit about motorcycles, another of Reynolds' favorite subjects.
But this is not what happens. To trail him through the gallery's many odd and then odder rooms is to be shotgunned with more raunchy comic riffs and one-liners than are contained on a complete DVD set of Family Guy. (A DVD set, by the way, that would feature Reynolds, who has voiced cameos for the series.) A perversely funny guy who also seems, two years after a series of personal and professional setbacks, to be finding his groove as both an actor and a man.
• • •
Men who look like Ryan Reynolds are not typically as funny as Reynolds is, for the simple reason that they don't need to be. Their looks earn them what others use laughter to obtain: affirmation, companionship—that sort of thing. Reynolds, of course, could certainly skate by on his appearance alone. Back at the restaurant at the Soho House Berlin, he looks every bit the leading man. While not currently as chiseled as moviegoers are accustomed to seeing him (filming "this movie has been great because I'm forbidden to go to a gym or expose my face to sun," he says of The Voices. "I don't think I've sweat in four months"), his rippled, six-foot-two physique still evokes a figure from a comic-book illustrator's pen.
"It's true," says Jeff Bridges, who plays Reynolds' cop partner in this summer's R.I.P.D. when I tell him my theory about leading-man types and humor. "Ryan has that very rare combination."
Reynolds' self-deprecating streak is so wide and deep that when he describes the same trait in one of his brothers as a desire for "stock options in his own humiliation," he could just as well be discussing himself. A typical Ryan Reynolds story, for example, is this one, which begins with him riding one of his motorcycles and ends with him having his jeans scissored off in an Australian emergency room after a spider bite and subsequent staph infection caused his leg to balloon. Yet another one ends with him spattered with the goo of a thousand dead dragonflies. "He's just incredibly funny," says the director Atom Egoyan, who cast Reynolds as an unfunny father searching for his abducted daughter in the forthcoming psychological thriller Queen of the Night. "He doesn't seem to take himself very seriously, yet he does."
If Reynolds "doesn't have many filters," as Egoyan says of him, the credit (or blame) for this probably goes to his being the youngest of four rowdy brothers. He was born in Vancouver to a working mom and a cop-turned-food-wholesaler father. "My brothers and I, we all look and move and sound so different. I pretty much got pounded the whole time. I don't bruise easily anymore. I can't tell you how many times the cops were called to our house." But wait, I cut in . . . wasn't your dad a police officer then? "Yeah, that's very embarrassing. When your dad's a cop, calling 911 is really just like calling Dad at work."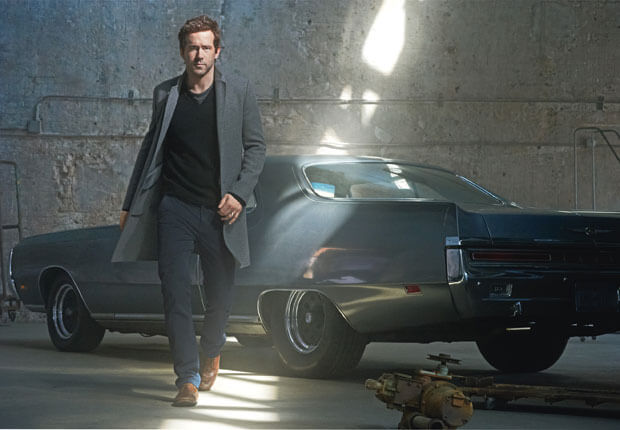 Despite all the punching, affection did trickle through. "I wanted to get an earring when I was 13," Reynolds recalls. "My brothers said that was a terrible idea and that as soon as Dad—a very, very obsessively strict cop, a tough guy—sees your Wham! starter kit, you're dead. Like, literally dead. He will turn you into a liquid. But I said, 'I don't care. I'm gonna do it.'" And after a trip to Sears the next day after school, he had done it. "I had a long walk home that felt like seven or eight days. And when I sat down at the dinner table, drips of sweat were just splashing off the table. I knew I was a dead man. I could feel my dad's eyes on me, like a laser beam burning a hole through my head. But then I could feel the gaze shift over to my brothers, and I heard him grumble something under his breath that was immensely offensive and that I won't repeat here. When I looked up, I saw that all three of my brothers had an earring. They did something pretty heroic in that moment. I have some amazing brothers."
"I still have a hole in my ear from that, which isn't always great in the police world," says Reynolds' second-oldest brother, Terry, the Royal Canadian Mounted Police constable.
Reynolds' earliest acting was for the benefit of his family and friends. "I'd fantasize that I had tuberculosis. It was just totally weird. I'd believe it, too. I told everybody I was dying from TB. To this day I can't really explain it, other than it was just an obvious prelude to what I do now, living in make-believe in this hyper-dramatized environment."
"Acting allowed Ryan to be ironic about himself," Terry says. "It gave him an opportunity to step outside of himself and lent him even more material for making fun of himself. He enjoyed the outlet, but he was also serious about the outlet."
• • •
Ryan Reynolds is arguably better known than most of the movies he's acted in. He's never savored a "breakthrough" role; his career trajectory, he once said, can be measured in inches. He started acting professionally at the age of 13, in a Canadian series for Nickelodeon called Fifteen, and in his later teens "played every ex–Dynasty star's son in every crappy movie of the week that came to town." After briefly souring on show business and switching to a midnight-shift job at a Safeway supermarket ("How many times can you sob with Donna Mills before you just go on and try something else?"), he ventured south, at 19, to Los Angeles, where he scored a lead on ABC's Two Guys, a Girl, and a Pizza Place. "I didn't starve to death in Echo Park for 10 years before I managed to get my foot in the door. I was pretty lucky."
Lucky to a point. His first feature-film starring role, as a campus party hog in National Lampoon's Van Wilder (which did poorly in theaters before becoming a frat-house classic), led him into a string of lackluster movies, such as the remake of The Amityville Horror and Blade: Trinity (the best moment of which comes when Reynolds spits an insult he improvised. With 2009's The Proposal, Reynolds proved he could hold his own in Matthew McConaughey territory, shirted or shirtless. That same year, Reynolds gained further box-office traction and fanboy cred with X-Men Origins: Wolverine. But the following year's art-house thriller Buried, in which Reynolds acted inside a coffin for the movie's entire duration, was itself buried at the box office. Then came Green Lantern, which looked to signal Reynolds' ascension into the summer-blockbuster stratosphere; he reportedly beat out Justin Timberlake and Bradley Cooper for the iconic role of DC Comics' emerald-suited ring bearer. But the movie belly flopped; some reports pin its financial losses at more than $100 million.
"Every time I've gotten myself into trouble it's because I'm choosing a project based on a long-term career goal as opposed to something that speaks to me at the moment," he admits, citing Green Lantern. "When I signed on, there was no script. There was just some art to look at. It was a time when I thought, 'Wow, I sort of have to do this.' I felt I had to go forward even though I knew nothing about it."
He has endured a boldface-named romantic life. There was fellow Canadian Alanis Morissette, to whom Reynolds was engaged from 2004 to 2007. Then came Scarlett Johansson, whom Reynolds married in 2008 and divorced in 2010. He began dating his Green Lantern costar, Blake Lively, in 2011.
They were married a year later and currently divide their time between New York City, Los Angeles, and what Reynolds calls "a little shack in the woods" back home in British Columbia. "He has this gorgeous, sweet, kind wife. Together, they're really well-suited," says Mary-Louise Parker, who costars in R.I.P.D. "Ryan has this slightly anachronistic Jimmy Stewart thing going for him—you can just sense his decency."
Reynolds may be famous for these romances, but it's not due to any trumpeting—or even mild divulgences—on his part. Questions about his love life are almost never met with answers. "I don't intentionally try to be evasive about that stuff. If you ask me to describe my relationship, I mean—words are too clumsy to accurately describe how I feel in that regard, particularly in an interview. It's a strange thing. I understand the climate we live in and why people are curious. But it's just tough and almost emotionally violent—for anyone, I think—to see your personal life summarized in a sentence." Seeing the end of his marriage to Johansson autopsied on the covers of the same tabloids he'd worked so hard to avoid was especially painful to him. "He seems genuinely surprised at the magnitude of his stardom," Egoyan says. "I think he gets hurt sometimes when his privacy is betrayed. It puts a lot of pressure on him."
Reynolds exudes an authentic sense of comfort about his present station, however, when domestic life sneaks into the conversation. The prospect of fatherhood is particularly enlivening. "We'd love to have a big family. We both come from big families—my parents did four, Blake's did five. A lot of people say it's crazy, but we'll only know when we're there, you know? We'll walk through that fire pretty happily, I think.
"I think you have to let go of this idea that you can be precious about everything, and let it be the abstract mess that it is," he says of the child-crammed life he's envisioning, which, unlike his own family, he hopes will include some daughters. "I'm terrified that I'm genetically predisposed to only having boys. That's frightening. By the time I was 10 years old, and I'm not exaggerating, I knew how to patch drywall. There's nothing my brothers and I didn't put a hole in. That's something I'm not looking forward to."
• • •
While Reynolds may be happily anticipating an unprecious mess in his home life, in his professional life he seems to be taking a more targeted tack. "In the last year, I've really had some divergent ideas as to how I used to do it and how I like to do it now. He's digging into a tuna-tataki salad to fuel the energetic dancing scenes he's to film in a few hours, on the set of The Voices. That film, from the avant-minded Satrapi, is a clear digression for Reynolds. "It's a psychological thriller with comedic elements, which is a scary way to pitch the film. My character is very effeminate, which has nothing to do with his sexuality, but I liked that."
The Voices will land on the heels of Queen of the Night, from Egoyan, the Oscar-nominated and similarly avant-minded director. About casting Reynolds in the lead, Egoyan says, "I have a certain brand, and people were saying, 'Oh, he's a funny choice for you.' But Ryan is a fantastic, magnetic, commanding performer. I've always seen a serious actor. He's one of the few leading men with such a level of transparency and accessibility. I think this will redefine who he is as an actor."
"My sense is that he's at a stage where he can pick and choose, and he's doing some different things," says his brother Terry. "To his credit, he still gets enjoyment from it. I don't think I've ever seen him this happy. He's probably at the best place I've seen him in his life. He's content with himself."
To a point, anyway. "There's fear around every corner because I'm usually stepping out of a comfort zone that I haven't done before in a film," Reynolds says of his current projects. "But that's the wonder of it, the beauty of it. I can't say I've ever finished a film and been particularly thrilled with myself or patted myself on the back. And maybe that's what keeps me going, and that's a good thing. It speaks volumes about how I perceive myself. Like a lot of people, I've got a self-loathing streak that's alive and well. It acts as a de facto engine when I'm working, but it also has its extraordinary pitfalls, too."
A sense of the absurd is often one of the by-products of self-loathing. "I told Blake I was going to do this entire interview just singing 'There's No Business Like Show Business' and see if you would print that verbatim. Just hours of that."
Do you want to work until you're 95?
"Do I really want to survive?" He takes a contemplative pause, the jokey glints fading. "Yeah, I think so. If it could be like the experience I'm having now and again, yes. I don't know what the outcome is, but I would love if it was meaningful in some way."
This article has been edited for girlsspeakgeek.com. The complete story appeared in
Details
Aug.2013.