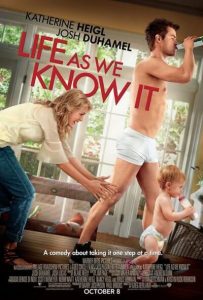 Rating: 2.75 of 5





I liked this movie and I didn't.
I like Josh Duhamel but he's more fun when he's charming and funny and he isn't as much of either of those in this.
I don't like Katherine Heigl that much, but she isn't too bad in this character.
I think my biggest problem is that they didn't play to Duhamel's strengths and the story was really lackluster.
I mean, I get the premise with the baby and all the shenanigans that can create with an odd couple. But that's just the through-line. You really need a bit of plot around these two people that supports their story and that engages us as an audience so that the through-line has something to run through (seems obvious, I know). And that's where this movie really faltered because I didn't care about her and her business or building or whatever. I wasn't that interested in his job. I wanted something else going on with these people that I could engage in, that would give them a chance to connect and have a story so that the baby could then throw everything a bit haywire.
But I didn't hate it enough to really knock any particular aspect of the film.
| | |
| --- | --- |
| Writing: | |
| Characters: | |
| Performances: | |
| Directing: | |
| Production: | |
| Overall: | |