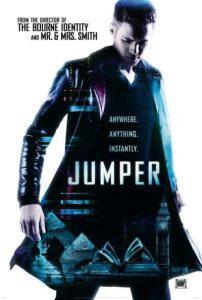 Rating: 2.75 of 5





Jumper is a great concept. Its exciting and interesting and could be very cool except that it suffers from a weak script.
The visual effect of the jump is dynamic and propels the story forward. Its so fantastic and innovative and still completely simple so that it really is the strongest element of the film.
The flaw it creates though is that the narrative is choppy and sudden. Like Griffin and the confrontation in the Colosseum; where did that come from? We needed to see more of them tracking him or Griffin leading them to him or something that gave that scene context.
The whole mythology is woefully underdeveloped. This could be ignored (as it is in many sci-fi action movies) except the hints of a mythology highlight all of the other places its weak:

In addition the mother/son dynamic is completely underplayed. They acknowledge what could be an interesting and complicated relationship and do absolutely nothing with it.
The biggest problems though are the gaps in the stories logic because they are so easy to fix and would have strengthened the movie significantly:

Essentially this is a movie relying on the strength of a very cool visual effect. Luckily it works and the movie is fun. It just could have been actually good at the same time.
| | |
| --- | --- |
| Writing: | |
| Characters: | |
| Performances: | |
| Directing: | |
| Production: | |
| Overall: | |