As the third of the wildly popular Hunger Games movies hits theaters, Jennifer Lawrence has been dealing with the dark side of fame: a far more shocking invasion than the usual paparazzi onslaught. Talking for the first time about having her intimate private photos hacked—and splashed across the Web—the 24-year-old talks about her fear, her anger, and the call to her dad.
You wait for movie stars, but if it's Jennifer Lawrence you don't mind. It's like waiting for a comet to come hurtling into view. She was due to arrive by the pool on the roof of L'Ermitage hotel, in Beverly Hills. When she finally got there, half an hour late, you couldn't help but notice how young and delicate she looked, neither Hunger Games strong nor Silver Linings Playbook sexy, but young. She even breathed young, and in fact it was just before her 24th birthday.
With the wild popularity of the Hunger Games movies and three Academy Award nominations (she's the youngest actress to have been nominated three times), with a win for best actress (for Silver Linings Playbook), she has indeed arrived like a newly discovered comet, improvidently throwing out heat and light.
Jennifer, whom her friends call Jen, was wearing a blue cotton top and a very short skirt she kept tugging at, saying, "I should have worn pants." Her knees were scuffed, as if she'd just climbed down from a hickory tree. Her blond hair was cut into a short bob, and she wore round, John Lennon-style sunglasses, which she removed when she sat down to talk.
"I must be nervous. Look at the sweat under my arms," she said, holding up a long, slender arm to reveal an impressive circle of perspiration on her shirt. It was the kind of thing a guy might do, but then, Jennifer grew up with two older brothers, Ben, now 33, and Blaine, 28.
"Yeah," she explained, "I'm the baby and the only girl born in my family in 50 years and the only girl born since. My brother just had two boys. My other brother's wife is pregnant. I said to my brother, 'Dude, get ready. You're going to have a boy.' Lawrences only make boys. I was a miracle."
Funny and explosive as a tagalong sister, she was called "Nitro" by her brothers. The nickname reflected a brash innocence she still has—a quality possessed by only a few movie stars. Carole Lombard had it. Frances Farmer—all too briefly—had it. Jane Fonda has it. Diane Keaton has it. Jennifer Lawrence was born with it.
Her appeal to men of all ages doesn't need explaining, but she also appeals mightily to young women, because she's unpretentious and spontaneous, and seems genuinely amazed at her celebrity status. She's one of us. She described being awed when she spied Angelina Jolie and Brad Pitt two feet away from her table at a Hollywood event. "They should be king and queen of America," she told Jimmy Kimmel, when she appeared as a guest on his show. "I would pay taxes to them."
She loves reality television. Her favorite shows? "Shark Tank. Wait. Oh, Dance Moms—that is a good one! O.K., maybe my favorite is Dance Moms, but I do love my Real Housewives. I mean, I love them all, but Miami—oh, my! Miami is really special."
It sounds as if her fame has put her a bit under house arrest, and it's true, she can no longer move unaccompanied throughout the world, so hounded is she by fans and paparazzi. As she says, "I mean, I have to do my job, and I love my job. Everybody can be like, 'Well, you knew what you were signing up for,' but you don't. You expect paparazzi to be annoying. You don't expect them to be terrifying."
And for Jennifer, it's gone beyond terrifying. Two weeks after our meeting, nude photographs of the actress were hacked and posted on several sites, adding to the already considerable pitfalls of her intense fame. Other celebrities, such as Kate Upton, Kirsten Dunst, and Mary Elizabeth Winstead, also fell victim to the hacking, and the F.B.I. is now investigating. "I was just so afraid," Jennifer now says. "I didn't know how this would affect my career."
She says her first thought was to write a public statement, "but every single thing that I tried to write made me cry or get angry. I started to write an apology, but I don't have anything to say I'm sorry for. I was in a loving, healthy, great relationship for four years. It was long distance, and either your boyfriend is going to look at porn or he's going to look at you."
She tells of her shock when the private, intimate photos surfaced on the Internet. "I can't even describe to anybody what it feels like to have my naked body shoot across the world like a news flash against my will. It just makes me feel like a piece of meat that's being passed around for a profit."
She's particularly angry at celebrity blogger Perez Hilton, who posted the photographs on his Web site, then took them down. As Jennifer says, "He took it down because people got pissed, and that's the only reason why. And then I had to watch his apology. And what he basically said was 'I just didn't think about it.' 'I just didn't think about it' is not an excuse. That is the exact issue itself.
"Just because I'm a public figure, just because I'm an actress, does not mean that I asked for this. It does not mean that it comes with the territory. It's my body, and it should be my choice, and the fact that it is not my choice is absolutely disgusting. I can't believe that we even live in that kind of world.
"People forget that we're human."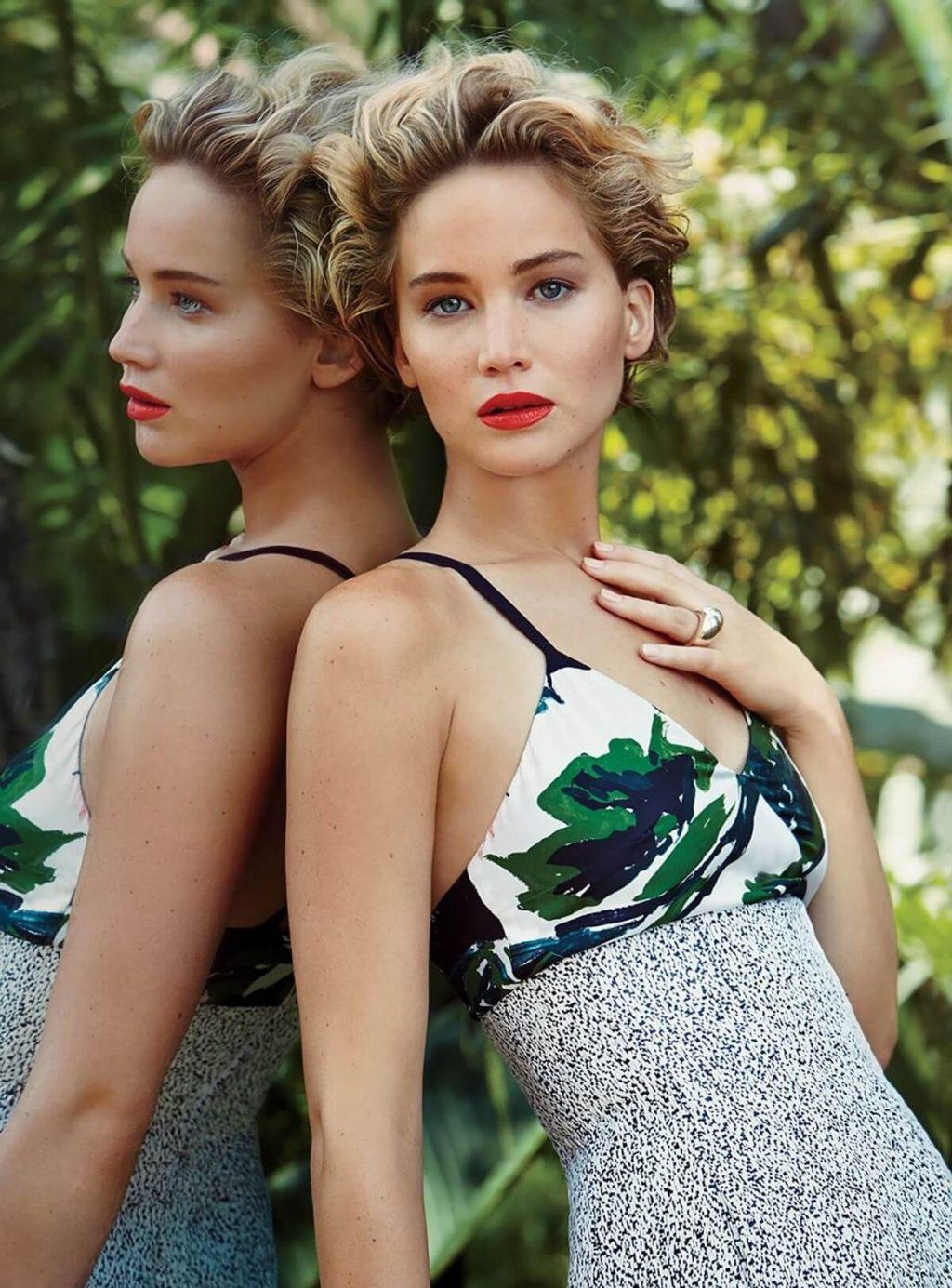 Part of Jennifer's anger and frustration is that there's so little she can do about it. She can't become un-famous. She can't quit her job. "I can't not act. It's what I was made to do, and I swear to God, it's the only thing that I'm good at, but that does not mean that I deserve to live like this. When I have to make that phone call to my dad and tell him what's happened . . . I don't care how much money I get for The Hunger Games. . . . I promise you, anybody given the choice of that kind of money or having to make a phone call to tell your dad that something like that has happened, it's not worth it." She allows herself to joke a little about that terrible moment: "Fortunately, he was playing golf, so he was in a good mood."
She feels just as strongly about the way the entire incident has been reported. "It is not a scandal. It is a sex crime. It is a sexual violation," she says. "It's disgusting. The law needs to be changed, and we need to change." Jennifer has a hard time understanding the mentality of those who so violently hacked into her private life. "That's why these Web sites are responsible. Just the fact that somebody can be sexually exploited and violated, and the first thought that crosses somebody's mind is to make a profit from it. It's so beyond me. I just can't imagine being that detached from humanity. I can't imagine being that thoughtless and careless and so empty inside." Nor can she forgive those people who were so eager to view the photos. "Anybody who looked at those pictures, you're perpetuating a sexual offense. You should cower with shame," she says. "Even people who I know and love say, 'Oh, yeah, I looked at the pictures.' I don't want to get mad, but at the same time I'm thinking, I didn't tell you that you could look at my naked body."
She is trying to move on with her life and hopes that something positive can come from the incident. It already has. The world is still very much interested in Jennifer with her clothes on, so much so that it was announced that in the spring of 2015 she will be co-hosting the Met Ball, titled "Chinese Whispers: Tales of the East in Art, Film, and Fashion." "Time does heal, you know," she says. "I'm not crying about it anymore. I can't be angry anymore. I can't have my happiness rest on these people being caught, because they might not be. I need to just find my own peace."
She does have a message for the entertainment-tabloid community, though: "You have a choice. You don't have to be a person who spreads negativity and lies for a living. You can do something good. You can be good. Let's just make that choice and—it feels better."
"All I want to focus on now is speaking out and hopefully helping anyone who's been violated in this kind of way," she says in conclusion.
Toward the end of our conversation, I felt as if I had to apologize for dragging her through it all again.
"You don't need to apologize," she said, "because I think it's right to speak of it. It didn't feel right to make a public statement, but it does need to be talked about. And I was afraid that by sitting and doing nothing, that made it seem O.K. for other women and girls to just let it happen to them, because it isn't."
In light of this, her publicists' nervousness at our interview is understandable. They're concerned with protecting Jennifer not just from the world outside our cabana but also from her own outspokenness. "My publicists were like, 'We think that you should stick to coffee or tea. No wine during the interview,' " she explained, " 'because sometimes when you drink, you know, you get a little loose.' "
The Hunger Games franchise is about to come to its epochal conclusion with the release of Mockingjay 1 and Mockingjay 2, the final two installments of the saga based on Suzanne Collins's hugely successful young-adult trilogy. On Jennifer's slender shoulders rests this empire. "When people look at you differently and talk to you differently, like even just walking into an elevator, it's a very isolating feeling—they don't look at you like a person anymore. It's one of the most lonely, icy feelings in the world."
Her way of dealing with this overwhelming fame is to stay close to family and a small circle of old friends. "When these movies came out, everybody else was looking at me differently, and the whole world was changing, but my world wasn't changing. Everybody I was surrounding myself with was honest and real and telling me the truth. I don't like yes-people. I don't like lackeys. I don't like people when they fake-laugh at my jokes."
Keeping a tight circle, perhaps, partially explains the public's attraction to her. "She's just constantly hounded by paparazzi," said Woody Harrelson, who co-starred with her in all four Hunger Games movies. He was speaking over the telephone from Maui, with his Texas drawl sounding even more laid-back than usual. "She's an amazing girl. She's one of my favorite people on the planet."
Having been in the public glare for 30 years, ever since playing the lovable, hayseed bartender Woody Boyd on the television series Cheers, Harrelson is not unfamiliar with the kind of fame that can turn into gilded persecution. When he first met Jennifer, he explained, "she'd done a movie, and people in the industry knew her, but she wasn't really famous. And so I watched her grow into, amazingly, the biggest female star in the world. And it's staggering to me how much she's been able to just hold on to her basic decency and her amazing, marvelous spirit. You know, it's not terrible, people telling you you're great; what's terrible is when you start believing it."
Woody and Jennifer first met when she went aboard Woody's "sustainable bus," which he uses to promote environmentally responsible living. He calls it 'the Mother Ship.' "I can't remember what I was doing," he recalled, "but, anyway, I was in there, and I hear someone coming up the steps. And I hear her voice before I see her. And she says, 'Hi, Woody. It's Jen Lawrence. I just wanted to say… ' And then she comes into view, and she sees immediately that I have a yoga swing in there. She goes, 'Is that a sex swing?' "
Woody still laughs at that. "I said, 'Well, I guess it could be.' But that really is, actually, a great illustration of who she is, because she's incredibly vulnerable, but she's got all these wonderful contradictions. She's just very forthcoming. It's almost shocking how much she'll say, you know. That's super-fun, and also it's shocking sometimes because it's so on the edge. It's like she doesn't have a censor. I really love that in people. I guess there are some people I don't love it in, but in her it's wonderful."
Jennifer read all of Collins's novels when they were first published, "in three days," but she never saw herself as their teenage heroine, Katniss Everdeen, the plucky survivor who changes the Games. "My brothers always say the same thing. They're like, 'When we read the book, we didn't picture you.' I was like, 'I didn't, either.' " For one thing, she always felt that she was "too much of a klutz" to play a skillful archer, but her self-described klutziness is part of her charm. Wearing a stunning off-pink Dior gown when she won the best-actress Academy Award, in 2013, she tripped going up the stairs to the stage and fell headlong—into America's heart.
"It was one of the most embarrassing moments of my entire life," she admits. "It took me a while to be able to laugh about it. I cried." To this day, it bothers her that she forgot to thank Silver Linings Playbook director David O. Russell, blaming it on the shock of her fall. (But, she adds, "it was probably because I f**ed up on my birth-control pills and I was hormonally just out of control that night.")
Laurence Olivier once wrote in a letter to the actress Joan Plowright, who would later become his wife: "You have an absolutely marvelous, uncalculated, impish sense of humour which is strongly laced with an aptitude for self-mockery." Those words could just as easily describe Jennifer. As Serena director Bier testifies, "Given Jennifer's charm, it's hard not to fall in love with her. She's highly intelligent, but she doesn't let her intelligence [get] in the way of her emotions. With some actors, their intelligence prevents them from letting go, from being in the moment. Not Jennifer. She's in the moment, always, like nothing I've ever seen."
Jennifer's portrayal of Serena Pemberton, the powerful and murderous woman behind a timber fortune in Depression-era Appalachia, will shock many of her fans—it's like nothing she has played before. When asked how she related to such a dark character, Jennifer answered, "Serena Pemberton—I love her. I'm not normally drawn to people with no redeeming qualities, but I think she's interesting, and I found another layer that I can't find the words for right now, but it was interesting for me. Basically what I'm saying is that people who are drawn to doing desperate things—you can have compassion for their desperation."
Though Jennifer never saw herself as Katniss, Francis Lawrence says, "I certainly cannot imagine anybody else in that role. I know that a bunch of people [felt] that she was miscast. This was before anybody saw it. I mean, nobody would question it once you see her performance. She really understands the character, and she spontaneously makes these choices which are always so honest and real and nuanced and believable. She picks up on the smallest little details in terms of people and personalities and behavior, and can read people and read a room so insanely quickly."
She seems to have learned it all on her own. By studying people, she studied acting. Her mother, Karen, who runs a day camp for children, once said that as a little girl Jennifer watched a lot of television, but not in the way that other children, or even adults, do. She would get right up to the TV screen, studying everything that was going on.
Just as surprising, perhaps, is how Jennifer holds her own with such seasoned actors as Harrelson, Donald Sutherland, and the late Philip Seymour Hoffman, whose final role was Plutarch Heavensbee in the two Mockingjay movies. Director Francis Lawrence recalls that Hoffman "only worked [on the movies] for maybe three weeks. He felt a little bit like an outsider, as did I at the time because it was very early on. So he was pretty quiet, and we were all in awe of him and still so excited—'Oh, my, Phil's in our movie.' He was a little more serious than everybody else was in between takes," he adds, noting that Jennifer's style was so different. "Jen will joke, joke, joke, joke, joke, joke, joke, joke right up to the second you call 'Action.' "
When the action does start, Jennifer is all business. Harrelson says, "I've got to admit, I'm a bit of a butthole this way, but I will try to make people laugh sometimes during a scene. But you just can't make her laugh. The times I have tried to, it just shamed me because she was just so completely in the scene. She goes deep."
Jennifer did not want to talk about Hoffman's shocking death last February, but she does have strong opinions on the subject of death: "Death is a terrible thing that should be respected. When somebody that you love dies, it's the most horrific, awful, gut-wrenching feeling that lasts forever. And for somebody to say that they're not afraid of death makes me want to punch them in the f**ing face. Because when you're touched by death, you realize how powerful it is and how much it should be respected for an awful, scary, terrible thing."
She stopped herself, apologizing by saying, "I'm so dark. I really should have picked a better day to do this. I'm sorry."
She suddenly changed the subject to something lighter: her affection for smart, funny comedians.
She's an iconoclast on her way to becoming an icon, and her high spirits and spontaneity just can't be tamped down. She is constantly coming up with the unexpected, as when she goes on a riff about her dislike of spiders, cockroaches, even crickets. Maybe it's a southern thing.
"Oh, am I such a bad person?" she asked when she noticed a spider crawling into the cabana. "See that spider? That spider isn't even close to hurting us or anything, but I want to go seek it out just to kill it. That's how much I hate spiders. Bumblebees? I won't kill a bumblebee. I'll move a bumblebee. Flies? Dead. Spiders? Dead. Mosquitoes? Dead. Cockroaches? Dead, dead, dead. Crickets? I'll kill a cricket. Because they jump into my house. I leave the door open. They jump in my house, and then I'm lying in bed and one will just start chirping in my room. Drives me crazy. I'm thinking about cutting one of their heads off and just kind of leaving it outside the door, sending others a message. Get tiny little cocktail sticks, little toothpicks, and put them on stakes. But crickets wouldn't get that—it would be way over their heads. Rats would understand. Rats are smart motherf**ers. I had to battle rats when I was a teenager in my rat-infested apartment in New York, and they're f**in' smart and they're scary."
If she weren't such a marvelous actress, she'd make a terrific stand-up comedian.
As Francis Lawrence noted, "There is a fearless quality about her that is very child-like, and that's part of what makes her endearing. It's strange because she's also a woman, so, you know, you're dealing with somebody who seems like they're 6 and somebody who seems like they're 30."
After Jennifer appeared in The Beaver, in 2011, Jodie Foster, who directed it, told her, "You're not going to be able to see a pattern right now, but when you get older, you'll look back and you'll see one in your movies, and it'll reflect something that's going on [in your life]." If one looks at Jennifer's roles so far, the theory does not seem far-fetched: The pixilated and troubled Tiffany in Silver Linings Playbook is fearless, ballsy, and truth-telling, canny and tough, but also tenderhearted. Then there's the hardscrabble tenacity of Ree in Winter's Bone, a trait Jennifer admires, and a maternal quality, evident in Winter's Bone and The Hunger Games.
Continuing Jennifer's pattern of playing tough, working-class girls who endure is her portrayal of Jeannette Walls in the forthcoming adaptation of Walls's best-selling memoir, The Glass Castle, which Jennifer is also producing. "Oh, it's such an amazing book, and the script is absolutely phenomenal," Jennifer says enthusiastically. She mentions that she has not yet met the author, but Walls spent a weekend with Jennifer's mother in Kentucky: "My mom invited her to horseback-ride and, I don't know, do what hicks do. My mom loved her. I can't wait to meet her."
Now, about the boys. When we met, the tabloid news was buzzing about Jennifer's breakup with Nicholas Hoult, the 24-year-old British actor from About a Boy, who played Beast to Jennifer's Mystique in X-men: Days of Future Past. He went from X-men to ex after an on-again, off-again romance with her.
Having ended a passionate relationship with Hoult, Jennifer says she's now looking for something cozier. "Isn't boring so much better than passion?" she asked. "I would so much rather be bored than excited and have passion," she added with a laugh. "I would just rather have somebody that has the same taste in reality TV than to have big, passionate love. I'd rather have just a peaceful time. [Those relationships] are deeper because you can be your true self with somebody, and somebody can be their true self with you. And also, I don't like fighting, and I find argumentative people the most annoying people on the planet. Like, why do you still want to be fighting? It's just unattractive. We should both just move on and watch TV." She laughed again. "Basically, what I'm saying is all I need in a relationship is somebody to watch TV with me."
This article has been edited for girlsspeakgeek.com. The complete story appeared in
Vanity Fair
Nov.2014.