A few days after meeting Robert Pattinson for the first time, co-star Kristen Stewart says this about him: "He can't lie. It makes things a little scary for him sometimes. But it's my favorite thing about him."
In a little bakery-café on Doheny Drive, in West Hollywood, the whole time, Pattinson seems to be telling the truth compulsively, heedlessly, helplessly, as if he'd been shot with a sodium pentothal dart while parking his car.
Pattinson's other problem—he admits this early on—is that he can't abide a conversational lull. "I just say the first thing that comes into my head out of nervousness. During interviews I don't want there to be a silence, because I'll start crying."
It's December; Twilight has been in theaters for about a month. Long enough for it to gross more than $150 million, long enough for the studio to pull the trigger on the first of three potential sequels by replacing director Catherine Hardwicke, not long enough for Pattinson to grasp what any of these developments mean for him, or the importance of dissembling in the presence of reporters.
He's just come from a big-time meeting with a director and can't wait to say how weird it was. Some guy offering him a part, maybe, in a movie so double top secret he couldn't tell Pattinson what it was about. "He wouldn't say anything," Pattinson says, "and he also wouldn't leave," so Pattinson sat there and talked about himself for three hours and drank enough coffee to make a rhino's heart explode.
"I don't remember the last time I ate," Pattinson says.
Pattinson goes on, filling dead air. He explains that the place he's staying at in L.A. has a microwave, and that he's never had a microwave before, and that he spends a lot of time looking for new things you can microwave. Those frozen cheeseburgers. A carrot. Did we mention that he's had about nineteen cups of coffee?
*****
Here is what Pattinson says about getting the part of Edward: "I took half a Valium and then went into this thing—and all this stuff happened."
Okay—to be fair, that's not all. He was on the verge of quitting acting, he says. He'd followed up what was, back then, the biggest role of his career—in Harry Potter and the Goblet of Fire—by getting fired from a play in London, where he grew up. He was in Los Angeles, crashing on his agent's couch, looking for an American job.
That's all Twilight was to Pattinson, at first. He didn't know about the fans who'd followed Edward and Bella from the first book—which turned author Stephenie Meyer into the biggest publishing-industry phenomenon since Potter's J. K. Rowling. He didn't know that as soon as the movie adaptation was announced, those Twilight fans started burning up Internet message boards with deeply felt opinions about which actors were right (and wrong, wrong, wr0ng!!!!) for the male lead. All he knew was that he couldn't remember how to do an American accent. He was freaking out. Hence the pill.
"It was the first time I've ever taken Valium," he says after a second, perhaps realizing how this sounds. "A quarter. A quarter of a Valium. I tried to do it for another audition, and it just completely backfired—I was passing out."
He auditioned in Hardwicke's bedroom; Hardwicke videotaped him and Stewart performing one of the movie's big love scenes. By then, Hardwicke had already met with hundreds of potential Edwards. "I'd seen a zillion really cute guys," she says. "But that was the problem. They all looked like the super-cute kid in your high school. The prom king, or the captain of the football team. They didn't look like they were from another world and time."
They did the scene. There was a vibe. Hardwicke waited a day to decide—"No matter how much I fall in love with the person, I make myself review the tape, to make sure I wasn't just overwhelmed by something in the air"—but says Stewart told her, right there in the room, "It has to be Rob."
Hardwicke still had to convince Summit Entertainment, the studio bankrolling Twilight, that Pattinson was the guy.
"There was a call from the head of the studio," Hardwicke says. "'Are you sure you can make this guy handsome?'"
They sent him to a trainer, dyed his hair and cut it. Pattinson immersed himself in the lore—the novels and Midnight Sun, Meyer's unpublished, unfinished retelling of Twilight from Edward's point of view. He showed up to shoot the movie with a lot of ideas. "If you met a guy like that in real life you'd think he was kind of dorky"—and more like the edgy dude burning himself with cigarettes in the corner at the high school party. He thought that at the end of the movie, when Edward and Bella slow-dance on prom night, they shouldn't kiss. "I thought that would be interesting for a teen thing."
Twilight got mixed reviews but opened huge anyway, pulling down $70 million in three days. By then the screaming had started. Girls who'd been in love with Edward on the page suddenly had a real-live human to focus their passion on. In London, Pattinson's friends watched in horror as the crowd swallowed him. At a mall in San Francisco, Pattinson was supposed to sign autographs for about 500 fans at a Hot Topic store; a few thousand showed up. Pattinson claims not to remember the chaos that resulted, although he says it in a shaky voice, like someone claiming not to remember what went down in Nam.
He wasn't ready. His first thought, whenever he finds himself in one of these crowds, is always, Someone could very easily stab me.
He isn't complaining. But he can feel all of it making him crazy. The other day, he went out, shook off three paparazzi-mobiles, hit the drive-thru at the In-N-Out. Somebody got pictures of him anyway. Hidden in the darkness! Like some kind of Hamburglar!
He tries not to go out if he can avoid it. Stays home, watches movies, microwaves. Mostly, though, he reads about himself on the Internet. According to the Internet, there is another Robert Pattinson out there, living a very different life. A creature of the night, eager to sink his fangs into anything with a pulse. All bulls* Pattinson says, but he reads the stories anyway, out of a kind of masochistic narcissism.
And he admits to reading it, which is the really weird part. He reads the gossip blogs and the Twilight fan fiction ("It's surprisingly hard-core. And very well written"). He knows what the fake Robert Pattinson said on the fake Robert Pattinson Facebook page.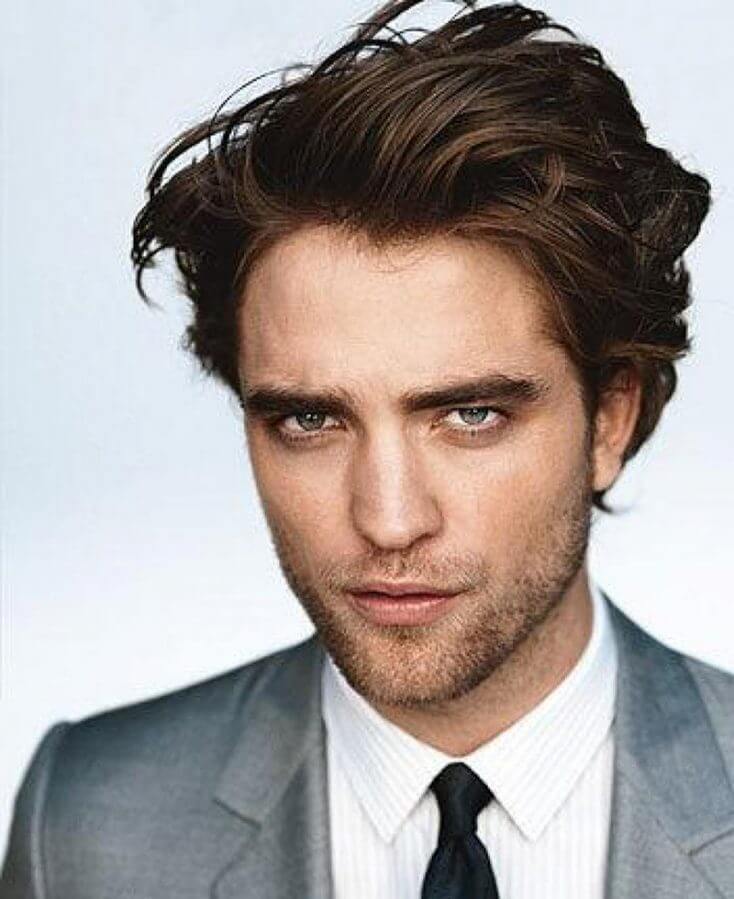 For what it's worth: He grew up in London. His mom worked for a modeling agency, his dad was a luxury-car importer. He did some modeling as a kid, some amateur theater, some British TV, took a break from a fancy prep school to do Harry Potter. There's so little to know about him that everything he says now becomes hyperimportant, data. Sometimes he doesn't even have to say anything. People make stuff up.
"There's literally not a single [true] story that could be written about me," he says. "I never do anything."
Cite an example of something untrue that's been written about him.
"There's this thing about my supposed girlfriend. There's this one girl who's consistently mentioned. It's like, 'He's dating this Brazilian model.' What's her name—Annelyse. I've never met her."
Annelyse's last name is Schoenberger; after she was spotted with Pattinson at a Kings of Leon concert last October.
But c'mon. You give us the Brazilian model? Did you really propose to Kristen Stewart every day while shooting Twilight?
"I said that in some interview, as a joke—'Oh, I proposed to her multiple times.' And then it gets printed: 'On the set, he proposed multiple times.'"
(Later Stewart says, "He probably proposes to several girls a day. It's sort of his thing. He thinks it's cute.")
Okay. What about the love triangle between you, Camilla Belle, and Joe Jonas from the Jonas Brothers?
"That's the funniest one. No. I mean, yeah, yeah, I'm friends with Camilla."
He starts to explain how Belle, best known for playing a cavegirl in 10,000 BC, dated, or is supposed to have once dated his friend, an actor named Tom Sturridge. So you're supposed to have stolen her from your best friend before you stole her from the other dude?
"From the Jonas brother, yeah," Pattinson says. "I'm completely out of control."
"I almost don't want to have a girlfriend, in this environment."
"The only way to establish any kind of mystique," he says, "is to completely shut up and never talk to anyone. And I'm contractually obligated not to shut up."
*****
He says he hasn't seen any movie he's been in since the Potter movies—not even Twilight. He took his mom to the American Twilight premiere, squirmed through the first ten minutes, then bolted. "I went out and sat in the car having a full-blown panic attack." Ten minutes in, he looked up and realized someone was videotaping him.
He doesn't want to watch himself on film because he's worried he'll look like a fraud. Even before he started acting, he says, "I was constantly thinking that I was faking my emotions. I was constantly attacking myself: You're a fake, you're a fraud."
"I remember when I was a teenager thinking my girlfriend was cheating on me, and going around riling myself up. Pretending to cry. It was totally illegitimate—I actually didn't feel anything. I went to some pub and then went crying all the way home. And I got into my dog's bed. I was crying and holding on to the dog. I woke up in the morning, and the dog was looking at me like, 'You're a fake.'"
Was she actually cheating on you?
"No," Pattinson says, laughing. "I thought I'd seen her with another guy, but she wasn't even there. I spent three days apologizing to the dog."
*****
He's prepping for the Twilight sequel, New Moon, about which he knows very little, because he's "never told s* about anything."
"I'm completely in the dark. No one will even give me the script."
They're keeping you in a box.
"Yes," Pattinson says. He mimes opening the lid of a coffin. "Shut up, Edward!"
He has a hard time even thinking of New Moon as a sequel, because it's so unlike the first book. "I don't know how they're going to make a movie out of it," he says, "because Twilight's a love story, and New Moon is just—Bella's manic-depressive throughout the entire book. There's very, very little happiness, and there's nothing teen-y about it."
Hardwicke says that back on the Twilight set, before the movie's franchise future was a sure thing, she and Pattinson "talked about a lot of other projects. He's obviously ridiculously photogenic, but he's also so talented and has so much insight. I see him creating stylized, odd, wild, fantastical characters, like what Johnny Depp does."
"I'm not massively concerned about doing lots of acting jobs," he says. "If it all just went, right now, I'd be like, 'All right. I don't really care.' That's probably a stupid thing to say. But I don't, really. I think it'd be much worse to do a load of stuff that's really bad. Because then you can't go into another career. If you've made an idiot out of yourself, you're never going to be taken seriously, as a lawyer or something, if you're, like, a joke actor. The only thing I want from anything is to not be embarrassed."
We totally gave you the window to James Lipton it up. (Or to try to convince us that you're More Than Just the Sexy Vampire, we think but don't say.)
"I literally have nothing to say," he says. "So I don't think, Oh, I wish they'd asked me about my craft instead of my hair."
This article has been edited for girlsspeakgeek.com. The complete story appeared in
GQ
Apr.2009.