Hey, this is Einstein. I guess he's part cocker spaniel or something. I got him out of a shelter about a year and a half ago. I was looking for a dog because I hadn't had one for a while — and I wanted one that was house-trained. I'm just terrible at house-training dogs.
So I go online and see Einstein. They had a whole film about him. It was actually really sweet. You see him all beat up and shit in the shelter, and they show how they cleaned him up. I love this dog. So I called and said, "I like Einstein!"
The woman goes, "Well, we don't know if Einstein will like you."
"Well, can I meet with Einstein?"
"Yes, we'll bring him to your house, but if he doesn't like you, he can't stay. We have to have good homes for these dogs." She sounded very serious.
Okay. I have this really long driveway, and I open the gate for them, and I start to panic that Einstein is not going to like me. So I run into the kitchen, where I have these turkey meatballs, and I rub them all over my shoes.
This woman opens the door, and Einstein throws himself at my feet.
She says, "I've never seen him react like that, ever!" And she left him with me on the spot. And forever, now, he just thinks of me as the guy with meatball feet. He loves me. I can do no wrong. He follows me everywhere.
Here's the thing: We used to lead the world in making things. But we stopped making things. We don't make anything anymore. I miss that.
Hollywood still makes things. We still export a couple billion dollars' worth of product overseas. Original, new product. Some people might not agree that it's original or new, but basically it is. There aren't a whole lot of industries that are exporting things right now — big time with big money. We spent about twenty years making money off of making money. And that's a very dangerous place to exist.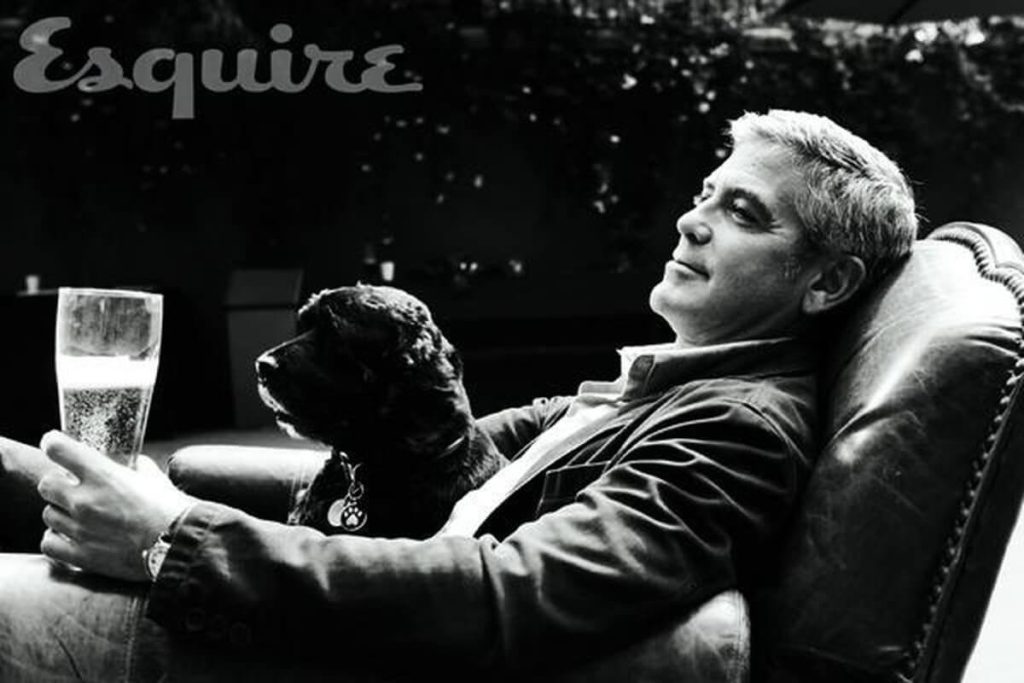 I didn't put money in the stock market. To me that's like Vegas without the dancing girls — none of the fun, no gambling or dancing or drinking — and you don't get to participate. So I paid off my house in cash when I could. It's about having a foundation for when things go bad. I still have that mentality. When things go badly, I'll have this piece of land I can sell first, and then I have this piece of land I can sell second. You always think that way.
You get better as an actor over time if you're growing. Like singers. My aunt Rosemary, later in life, couldn't hit a note and couldn't hold a note. But she was a better singer — much better. She said, "I don't have to prove I can sing anymore." Just serving the music makes a huge difference. There's a simplicity to how you're doing it that makes it easier to convey. There's another trick — good writing.
Good storytelling sets you up. There's a scene at the end of Michael Clayton where I get into the car and say, "Just drive." It's a close-up of me and we're driving. Everybody really loves that scene because it just stays on me the whole time. And people ask, "What was going through your head?" The truth of the matter is if you showed that scene at the beginning of the movie, people would say, "I'm bored out of my mind."
So that shows you that it's not the actor that's doing that — it's the story that led to that and got you there. The trick as an actor is not to sell it. Let the story do the work.
It's just a job. An acting job is playing pretend.
I have a real interest in pushing some of the limits of things that studios don't want to make. Because I can. I won't be able to at some point in the near future. But right now I can, and while I can, I want to do it. So when you're eighty years old and they ask you what you did, you can go, "When I had the keys to the car, I drove it as fast as I could and as hard as I could. I took it to places that the owner didn't really want me to take it."
That's a fun thing to do. Understanding that at some point they're going to come back and repossess the car. I don't mind that. I just want to be able to say we gave it a shot when we had the time.
There's ten of us, we've been best friends for thirty years. Ten guys. And their wives, and their kids, are all family now. I'm not big on keeping up on the phone, none of us are. Some guys I won't talk to for two months and then you pick up the phone and hear, "So, anyway." There's an ease to it.
I remember when Richard Kind's dad suddenly died. Richard's a really wonderful character actor. He loved his dad, and he was very grown-up about passing on the news. He called and left a message: My dad died, I'm in Chicago, the funeral's going to be in New Jersey tomorrow morning. I'll talk to you when I get back.
This was five o'clock at night. I was in L. A. Rick is a Jew. They bury the next day. They don't screw around. They get you right in the ground. So I called up Michael, Grant's brother, and told him Richard's dad died. He said, "We should be there." The guys were all around the country. One was in Denver. One was in San Diego.
So I got a jet and we spent the whole night flying around the country. San Diego, Denver. We landed in Trenton, New Jersey. Richard didn't know anything about it.
We got to the synagogue, this giant synagogue, with the people up front. And Richard didn't know we were going to be there. We're sitting there, the nine of us in the back row. And Richard gets up to speak about his dad and he sees his nine best friends there. And what I loved about it was that all of us understood that there are moments in your life that are real passages. Your father dying is a very big one. Because you are now the man of the family. We understood how important that was at that time.
Ides of March I did for scale — scale as a director, scale as an actor, scale as a writer. And I don't have any back end on it. So I'm not going to make any money after that. I enjoy living in a nice house and having a nice life. So I do two or three commercials overseas a year to sort of fill in, because they pay pretty well.
The wedding one in Norway was great. I usually try to keep away from anything that would have to do with me personally. I always think the commercials should make fun of me, sort of as a personality, but I try to keep my personal life out of it. But they called and sent the script, and the idea was funny. This woman in Norway wakes up and she's married to me. It makes a big difference when you're working with the Carol Burnett of Norway. She's great, and it turned out fantastic.
That commercial in particular helped fund a satellite project that keeps an eye on the Sudanese border to try to hold these war criminals in check. The satellite project costs about a million and two a year. So I'm always looking for a gig like that.
Everybody sort of has their own versions of what they think I am and what they think that is. I'm just living my life and doing the best I can. The rest of those versions, there's not much I can do about. No matter what I do, I'm somehow upsetting someone in some way or making somebody happy. I can only live my own life and my version of it.
My life isn't focused on results. My life is really focused on the process of doing all the things I'm doing, from work to relationships to friendships to charitable work. If I focused on results, if it's only about the ultimate results, I'd be a failure in Sudan, I'd be a failure in film, I'd be a failure with my friendships, I'd be a failure in relationships. I look at it as an ongoing process.
There are quite a few things [I could be] tempted with. I could be tempted by youth if I was allowed to hold on to all the wisdom that I've gotten. In everything, not just sports. In life. In acting. I'd be tempted by youth only so I could continue doing it a little longer.
Keep looking for new trouble.
This article has been edited for girlsspeakgeek.com. The complete story appeared in
Esquire
Dec.2011.