It's been a while since I posted an Event Horizon. Truth be told, after Comic Con and with most of the exciting summer releases out I wasn't enthralled by much of the news and wasn't coming across pictures that sparked my interest. And I'm never one to post just for the sake of posting.
But Twilight's almost here and there have been a few other well timed items of interest.
Picture of the week: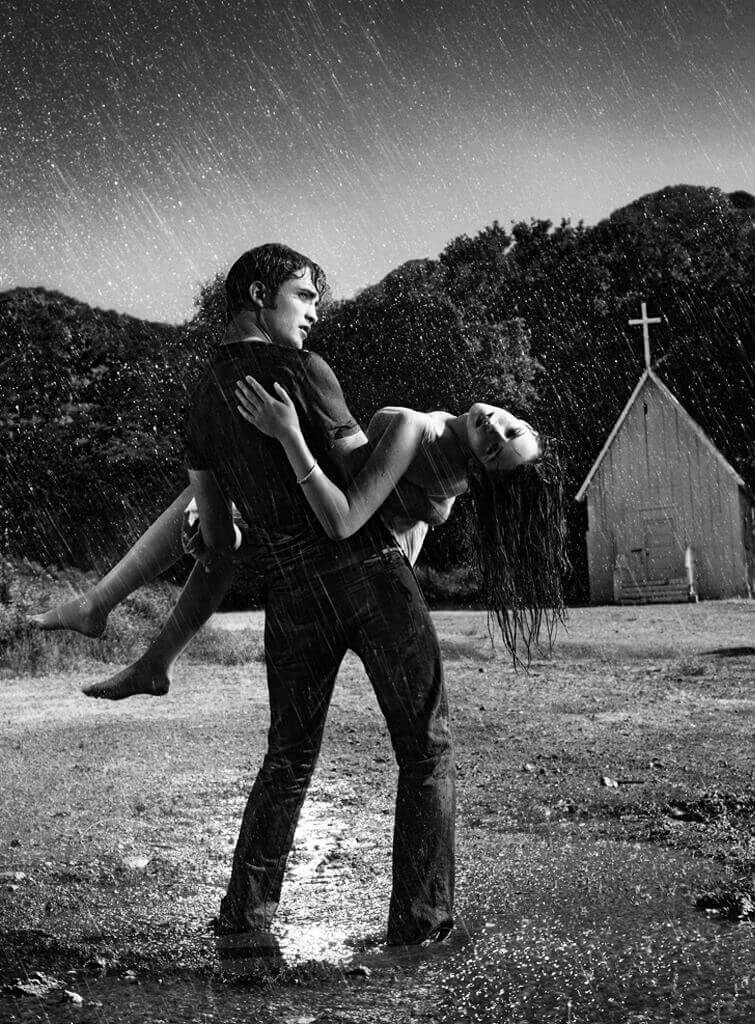 I don't care that it's an old picture from Twilight (specifically from the photo shoot EW did for the first movie – July, 2008). It's a cool picture, full of drama and irony of the damsel in distress and hilarious implications of how serious the whole franchise takes itself. I didn't love it when it was first released and now I find it layerd and dramatic and amusing. Plus I read Film Crit Hulk's diatribe on Twilight (here) this week and came across this picture and so it's timely for me.
Interview of the week 1:
Hugh Jackman and James Mangold give us a glimpse of The Wolverine in a Collider interview.
I'm really happy that finally I feel like, physically, what I see on film is how I saw it in my head. By the way, this is not a vanity thing, this isn't about looking buff. It's important that that rage inside is seen in his body, so it's not enough for him to be buff like he's gone to the gym; I wanted to see veins, I wanted him to be animalistic, I wanted not "pretty," but frightening.

Mangold: It's like a raw nerve. The physicality that Hugh has worked so hard to embody, when we get back to talking about rage and the physicality of the character, nothing speaks louder than his silhouette in a scene with lightning in the sky and you see the cut of his body and you understand that this guy can tear you apart.
source
Interview of the week 2:
Not to be out done, Robert Pattinson shares some thoughts on his own physique and Twilight sort of stuff with Collider.
If you could go back five years, what kind of advice would you give yourself to prepare you for this entire experience?
PATTINSON: …try to get a six-pack as early as possible because you'll be a much more successful actor.

I don't know. It's fun to deal with the terror and the huge highs and lows of things.

What were your first impressions of Kristen Stewart and Taylor Lautner, when you met them, back at the beginning of this whole thing?
PATTINSON: I met Taylor on the movie, I think, when he was wearing his wig and stuff. I met Kristen at the audition. I'm still just trying to come to terms with acknowledging being an actor, at all. Taylor was like 15 when I met him. When I did Harry Potter, I remember looking at Dan [Radcliffe], Rupert [Grint] and Emma [Watson] and being like, "Those guys are actors." I was starstruck by them. And I was starstruck by these guys, when I met them, even though I'd only seen Kristen in a few thing. I've always had this separation. It's funny to see people get humanized. With Dan, Rupert and Emma, I still see them as that. I was with them for 11 months and I still see them as massively famous people. It's strange to have gone through the same experience with Taylor and Kristen, as well, and to see people retain their sanity, as much as possible. I've seen a lot of people have minor amounts of fame and just lose their minds completely, after a casting announcement, let alone having done a movie. It's amazing to see that people manage to maintain.
source
Article of the week:
Film Crit Hulk posted an essay about plot holes and movie logic I found thoroughly fascinating. He always makes really interesting points and says them quite eloquently for a hulk (though not succinctly).
A MOVIE IS ALWAYS AN UNREALITY. THEY MIGHT BE VERY LIFE-LIKE, DRAMATIC EXPERIENCES, BUT WE ALSO HAVE TO ACCEPT THAT THEY ARE CONSTRUCTIONS. AND THAT MEANS ACCEPTING THAT THEY ARE BOTH 1) FULL OF CONFLICT AND 2) NATURALLY IMPERFECT.

THE PLOT ITSELF DOESN'T NECESSARILY NEED TO MAKE SENSE, BUT BE EXECUTED IN SUCH A WAY THAT THE CHARACTERS' DECISIONS MAKE SENSE.
source
I tend to agree. The thing I think you, as a viewer, have to distinguish is between logic and believability. A film might have something completely illogical, but if it's portrayed well I believe it, however illogical it is. If it isn't believable than it doesn't work – however logical it is.
That sounds like some pretty rambling, but think of Source Code. The more they tried to explain the physics of it all, the less plausible it became. But something like Looper that sold you the characters and story was totally believable, whether any of it was logical or not.