In a land far, far away, Chris Hemsworth is sitting on the deck, no shoes, eating cheese and fruit served to him by his hot wife, drinking a beer, listening to the breeze, wondering if maybe he could afford this place.
Saturday at the beach. Chris Hemsworth doesn't surf on this Saturday. He doesn't even leave the house. Even though he talks about surfing a lot and I hint that it would be great to do something besides sit on the deck. Instead he lounges above a deafening Pacific surf, drinks one single beer, picks at the plate of cheese, figs, and shelled pistachios his beautiful wife set out for him. Through it all — baby tending, furniture arranging, beer fetching, the ordering of pizza, hours of this and that — no shoes.
He is standing against the glassed-in railing, watching the sun drop into the ocean, and I ask, Do you worry?
"Worry?"
His surprise at the question is genuine. Broadly speaking, Chris Hemsworth does not worry. Everything about him sends a low-frequency, all-good signal to the world. This may be a matter of being Australian, being an Avenger, being father of a one-year-old. On the other hand, if he's missed something, if he should be worried, he wants to know.
"About what?"
A glance at his bare feet. Splinters? Broken glass?
This makes him laugh, deep-throated and musical. The guy laughs like he's gulping water — the sound seems to come from the ocean. You can see why they made him Thor: because Chris Hemsworth laughs like a god. A god who laughs a lot. And the answer, when it comes to worry and Hemsworth?
"No. Far from it."
It's a cool day, there by the water and Hemsworth, arms pinioned against the railing, is wearing only a threadbare T-shirt and jeans.
His wife, Elsa Pataky leans out the sliding-glass door, asks if we're hungry. Hemsworth turns and smiles, a man legitimately happy right where he is. He pulls his hair into a ponytail. "Right," he says. "I could eat a little."
This leads to the aforementioned Manchego, dried fruit, and nuts on the ocean deck. The house, on the beach in Malibu, is a rental. Or a loaner. Whatever. Hemsworth says only that it belongs to friends. "We couldn't afford this," he says. Just then he looks around as if he'd never seen the place before, or at least considered it. "I don't think so, anyway." He and Pataky lived the last two years in London while he filmed Rush and finished Thor: The Dark World. "We have an apartment in Santa Monica," he says. "But mostly that's turned into a storage space for suitcases outfitted for different parts of the world."
The kid can absorb almost any observation, any snipe from an outsider, without taking it personally. Tell him that Thor, frankly, is too self-serious — worse in the comics than in the movie, but still — and he laughs joyously. He doesn't care what any one person thinks about Thor. It's the sum total that matters.
"You talk to the comic-book fans, people who've been there since the beginning — you know, since the sixties — and you realize the religious significance of this thing," he says. "And there is a kind of work that follows. You do your research. You listen and learn what you can. But then you let go. Eventually you're down to it. You gotta make this guy your own. The challenge in the first installment was this fish-out-of-water quality, this naivete about everything that makes up earth. That was a familiar dynamic to me. A Crocodile Dundee thing, really. A stranger arrives at your shore. He's in foreign territory, out of his element, with his own set of tools. Very powerful in one world, stripped of that power in the next."
And the second Thor, does it maintain that mind-set of naivete and discovery?
Hemsworth raises an eyebrow. "Well, it's set in a lot of places. Let's see. It's on earth and Asgard again. But in other realms, too," he says. "He's got some new battles, good villains. So it's a different dynamic set in…" He raises his fingers and throws up air quotes. "Earth and other realms." Just self-serious enough to make him smile. "Like, there's this other place. Let me think. I can't remember the name. What was it?"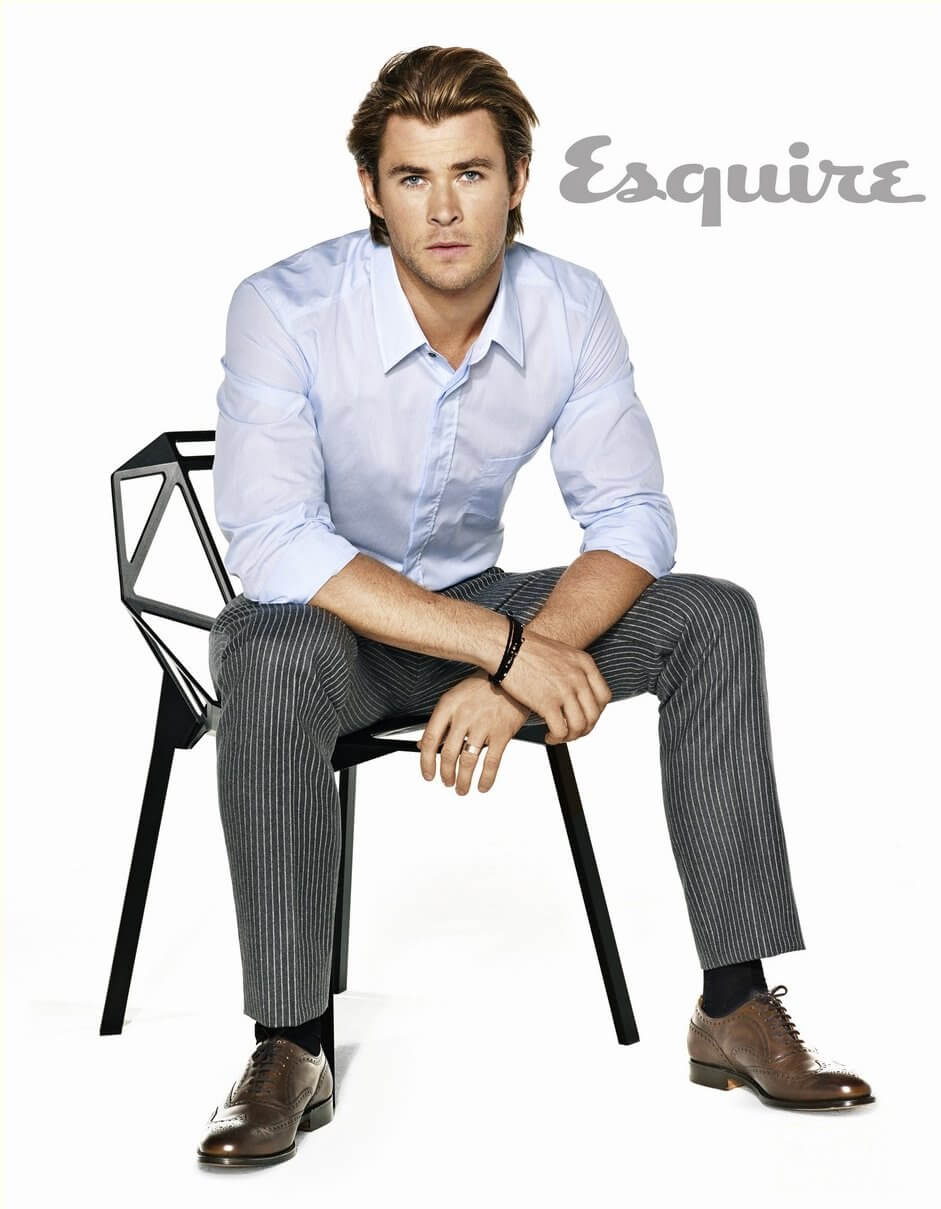 It doesn't matter.
"No, give me a second."
Really, no worries.
"I don't know. Schwartzaldahelm, maybe."
Schwartzaldahelm?
Hemsworth laughs. "It's like that. I don't remember." He says it again. "Schwartzaldahelm." He may have just made it up. Or it's close. In any case, the thought of it — Schwartzaldahelm, either the place or the word — makes him laugh.
He could be any young guy a million crunches into a lifetime of ab work. But make no mistake: He's got a mug. It's a good face, but not a famous face. Not yet. At the moment, he's in some middle ground between being a recognizable Thor and a hardworking mere mortal. First seen by most moviegoers as Captain Kirk's father in the 2009 J.J. Abrams Star Trek reboot. But his features were rounder then, his hair in a short military coif. "I got to crash one spaceship into another," he says, "which is undeniably fun. At one point, I was trying to react to the moment of impact, kind of throwing my hands in the air, expecting to be sent spinning forward. J.J. came up to me and said, 'That's great. Now let's try it with a little less flight and a little more f**ed.' So that's what you see in that moment, me doing my best 'f**ed.' Now, that's acting right there."
"Thor is large," he says. "For that I had to add some muscle, which hasn't been all that hard so far. I like training just fine, thanks. But to play a Formula One driver, I had to drop quite a bit of that. You know, slim it down. First time I looked at a Formula One car in person, I just stared at the cockpit, figuring I'd never get in there. The drivers wear the whole car like a tight-fitting suit. So I just started training differently, shedding all that Thor. I've come to see size as just a kind of prop."
Nothing moves fast for him. It is not a calm so much as an absence of expectation. Life on a beach in Malibu, where beauty is an everyday construct, where fame is cultivated, generally seems foreign to the rest of us.
Twenty years ago, he was living in an aboriginal village, he and his brothers the only white kids in sight. Ten years ago, he was surfing and looking for acting work in Melbourne. Five years ago, he had just finished punching a clock on an Australian soap opera. But fame quickens everything. Suddenly, Hemsworth already looks like someone with a career's worth of success: his face on billboards around the globe, his body thickened and slimmed at the whim of others, his gorgeous wife serving him cheese, a baby that wants him hungrily. As he looks over the Pacific Ocean from a Malibu deck, he's in a land most people, even most actors, don't know the name of. He might name it, but he'd be guessing again. Schwartzaldahelm.
Do you even like driving?
Hemsworth purses his lips. "I grew up in a culture of motorbikes," he says. "So I like racing just fine. Quite a lot, actually. That was when I was a boy in Australia. And I never really made the jump to cars after that."
The afternoon trips along. The baby naps. A friend, visiting from Australia, steps out of the haze of jet lag to say hello. Pataky sits at the table and tells tales about The Fast and the Furious. Just now she's on the cover of Women's Health, turned at her hips, with the words GREAT BUTT! and a giant red arrow pointing to that very butt. She signs one for me, slides it across the table, and asks, "What do you think?"
The autograph? The butt? The cover shot? Who wants to answer that? Hemsworth, his hands folded behind his head, seems to understand. "It's great," he says, gracious and aware. "It's a great butt, honey." She is pleased to hear it, particularly from him.
"Good," she says. "Very good answer."
He's at an age, this one, having done his service to a movie franchise or two, having some initial grasp on his look as a grown man, at which he might be able to pick his own projects, to do what he likes, to start to show himself as a serious actor. Rush certainly represents a step in that direction, as does the Michael Mann thriller he has lined up behind it.
"I remember being in high school, every week I had a different idea about what I wanted to do. One week it was 'Ah, I'm gonna be a doctor.' The next it was I'm bound to be a professional sports player — you know, Aussie football and that stuff. Then I'd want to be a police officer. A lawyer. They were all elevated ideas to me, of me, in some way. Exaggerated conditions of what I wanted to be. Or of where I wanted to be. I can remember watching Lord of the Rings and being truly regretful that I wasn't a being in that world."
You mean that you weren't in the film?
"No, I mean that I didn't live there. In Middle-earth."
When it gets dark outside, pizza is ordered. This is Hemsworth's Saturday. Same as it ever was, you can tell. Probably very much like the Saturdays he spent crashed on friends' couches upon arriving in the States. Probably something like the Saturdays he spent with Pataky in London. Probably like last Saturday.
Between Saturdays, he's been shooting for weeks and training. For Cyber, the Michael Mann movie, he's getting tutored in keyboard speed typing and talking like someone from Chicago. He's lining up time for the second Avengers, time to beef up yet again. No matter. It's his job.
Pataky's mother, visiting to help with the baby, steps into the kitchen and Elsa speaks to her in Spanish. Hemsworth doesn't speak Spanish. Or Italian. Or Romanian, like his wife. "I can't learn," he says, and it seems like this marks him as a young guy, the unwillingness to learn for the sake of his wife. "I have tried," he says, "but it's a long record of failure." In this, he is Australian, which is to say willing to acknowledge his shortcomings while remaining unapologetic for them. Confident about what he can do. What he can't do does not interest him.
"It's hard to live in more than one language unless you grow up that way," Pataky says. "The part I don't like is being the only person in the room who is groping for words, like… What was it last week? There was the word about the gardens? I just didn't know it."
"Gazebo," Hemsworth says.
"Yes, gazebo," Pataky says. "This is the frustration. Gazebo."
"The frustration is she knows more than I do," Hemsworth says. "But I know a gazebo, so I look pretty good. It's all backwards."
After pizza, Hemsworth heads to the garage, to show off some new boxing gear. "I could pound on you all day if you were wearing this stuff," he says, "and it wouldn't feel like a beating to you." Seems doubtful, truly, when he's standing right in front of you.
He opens the garage door to the night, revealing the Camaro I've brought there for his driving pleasure. Does he want to take a spin?
"We could do that," he says, nodding, circling the car while rubbing his chin. "But I'd need some shoes." He says this as if he doesn't have any.
Why all this hesitation?
"I don't really like driving," he says. "It's just not what I do naturally."
Hemsworth. He doesn't drive. Doesn't wear shoes. What does come naturally?
"Surfing," he says without a moment's hesitation. "I'd nearly always rather be surfing."
Well, give me a look.
He shakes his head sadly. "There's nothing doing out there right now. Besides, it's night."
No, show me your board. Let me see your setup.
Hemsworth pricks up his ears. "Oh, absolutely," he says. And he turns toward the well-lit maw of his garage to show off his board and the new boxing gear. He even runs a little, in those same bare feet, over the sharp and nasty gravel.
It's Saturday, so Hemsworth boxes. In his garage. With his best friend from high school. Music — Pantera — throbbing through speakers. The guy is suited up in a bright yellow foam suit and helmet, calling out the shots — jab, jab, hook, uppercut. Hemsworth hits hard enough to hurt the trainer, even with the protective gear. Every now and then he throws in a side kick for good measure. He could do this all day. It's Saturday, so he might lift afterwards. Then spar with his wife. Maybe surf a little at dusk.
Fun Facts
He spent three years on the Australian soap opera Home and Away, a show that also helped launch the careers of Naomi Watts and Heath Ledger.
While on the show, his character, Kim Hyde, suffered from a drug addiction and managed to live through a car crash, a helicopter crash, and a fire. Hemsworth won a Logie (an Australian Emmy) for his performance.
He appeared on the Australian version of Dancing with the Stars in 2006 and made it halfway through the competition. He was the sixth of ten contestants to be eliminated.
He has trained in muay Thai, an ancient Thai martial art.
For his role as Thor, he built twenty pounds of muscle — so much that his costume no longer fit.
A prop version of Thor's hammer is now at his parents' home in Melbourne.
To get his hammer swing right, Hemsworth practiced chopping wood and studied Mike Tyson.
This article has been edited for girlsspeakgeek.com. The complete story appeared in
Esquire
Aug.2013.