RURAL MASSACHUSETTS SEEMS miles removed from where you'd imagine a Hollywood superstar would want to spend the waning days of winter. The trees are bare, refrozen slush piles reach head high, and even in the midafternoon, there's a kind of dull gloaming.
Yet here's Captain America, Chris Evans, as he ushers me into his home, a heavily renovated farmhouse on a couple of snow-covered acres outside Boston. "Yeah, I guess this is the part of the year where you, you know, question why you live here," he admits, laughing as he surveys the scene.
But Evans, 37, loves it here. He grew up just a few miles away and looks every bit the local in a Red Sox ball cap, and a red tartan flannel. It's hard to reckon that just a couple of days before, this same guy was onstage at the Academy Awards, presenting with Jennifer Lopez. His duds that night: a custom baby-blue velvet Ferragamo jacket that his stylist told The Hollywood Reporter was inspired by Prince Charming.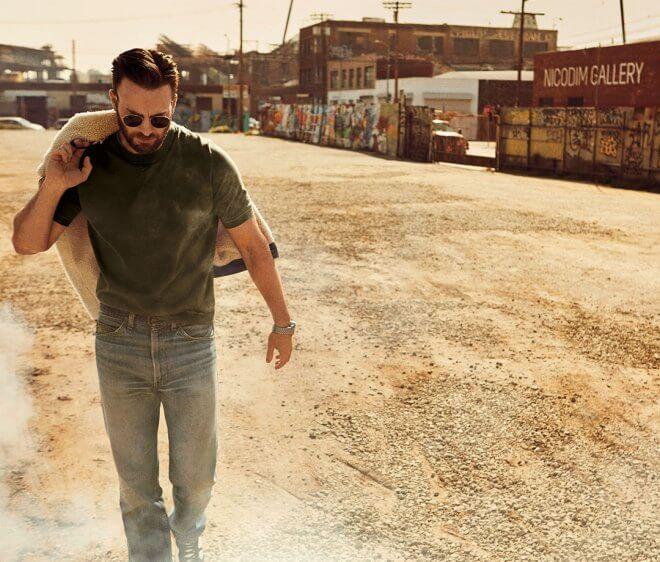 I ask about the Oscars and J. Lo, and Evans reveals his contemporaneous monologue: "She's been a major crush of mine for so long," he says. "I was just thinking, 'Don't be annoying, don't be annoying, shut up Chris, just shut up. Don't say anything, because you don't know what to say.'"
Not that you'd notice he was anything but cool at the Oscars. A Chris Evans moment went viral when, seated in the front row, he quickly leaped to the aid of actress Regina King when her dress became tangled as she approached the stage. Evans supported King as she straightened it out, then escorted her up a few stairs.
The micro-drama was caught on camera; think pieces on chivalry hit the internet the next day. Evans says his phone only recently stopped vibrating with texts from friends and family who caught it. "The bar is so low that literally I did a normal thing, like on par with saying 'God bless you' when somebody sneezes, and people thought it was—I don't know," he says.
Spend some time with Chris Evans and you start to understand that Chris Evans doesn't drink the Chris Evans Kool-Aid.
OF COURSE, EVANS HAS THE LUXURY OF relaxing far from the West Coast hustle in part because his character has been a lodestar in the most lucrative franchise in film history.
Evans won't comment on his character's fate. "You can't ask me that!" he says.
Evans explains that in 2010, he was in Houston shooting the low-budget film Puncture, a ripped-from-the-headlines drama about a drug-addicted lawyer taking on a medical-device company. By this point, Evans had acted in plenty of films, with starring roles in action flicks and rom-coms since making his major-movie debut in 2001's Not Another Teen Movie. But for some reason, in Houston he was starting to lose it. He was having panic attacks, melting down between takes. He'd long expressed frustration with the dancing-monkey aspect of actorhood, but had learned to glad-hand the press without losing his mind, and seemed to be getting better at faking it through step and repeats on the red carpet. But for the first time, Evans' anxiety was getting the better of him on set, a place he had always considered cathartic.
"There was no reason that after 10 years of making movies, I was freaking out the way I was," he says. "I started to entertain the possibility that maybe this wasn't the right industry for me. I started to think, Am I getting closer to the person I'm supposed to be—or further? I started to feel like maybe I was getting further."
Evans was preparing to do the noble work of reclaiming his life. He'd step away from the movies. Do something different. But then Marvel called, offering the role of Captain America. A nine-film deal, no audition necessary. It was an actor's dream in terms of financial security. But Evans said no. Then a few friends told him he was crazy, that he was just being scared. Evans listened, then started to see the offer as a sign from the universe. He talked Marvel down to a six-movie contract, then took the deal. (He still did nine films.) "I got the job in a weird way from saying no," he says. "Just like other things in life, when you say no, they just pursue you."
Still, Evans describes the experience of shooting the original film, as a "hair-on-fire fever dream." He felt like a cat being tossed into a bathtub. "Marvel had this hope of a tapestry of characters," Evans says. "It really doesn't work if one of them falls flat on his face."
"Downey's character is obviously the crown jewel, constantly making mistakes and finding redemption," Evans says. "Cap is the steady hand on the wheel."
"He's playing integrity and moral fortitude, and making it complex and interesting at the same time," Joe Russo says. "It can be very difficult."
Evans, for his part, admits that the role has been a learning experience, and not just as an actor. Playing Captain America, he says, has made him a better man. "When you're playing a character for a long time, you start to see the parallels between what the character's going through and what you're going through," he says. "You start to look at your own conflicts and circumstances through the eyes of someone who might handle it better than you would."
"It felt like graduating high school or college, you know," he says. "For the last month of filming I was letting myself go to work every day and be a little overwhelmed and a little nostalgic and grateful. By the last day, I was bawling. I cry pretty easy, but I was definitely bawling."
THERE IS NO CAPTAIN AMERICA paraphernalia on display at Evans' house. "The older I get, I shed a lot," he says, showing me around. "I like running clean." A Bösendorfer upright piano is probably the flashiest thing here—Evans has been playing since he was young. He also plays guitar and says he can "fake it" on the drums.
Evans has a place in L.A.'s Hollywood Hills, but he's in Massachusetts most of the time. "When I'm here, I feel much more like myself, the way I was when I was a kid." After a pause he admits, "I love to rollerblade. It's a bummer that rollerblading became uncool, because it's f**ing awesome. My friends make fun of me, but I f**ing love it."
At some point most days, he'll visit family who live nearby—his father; his mother; and two sisters, one with three kids. On weekends, the Evans pad serves as home base for his old friends to hang. "It's a wicked lucky thing," Evans says. "We have a real tight group of eight or 10 guys. The majority of them are in the suburbs, and they all have kids. Now on the weekends, they come over here.
"I was never much of a 'I can't wait to leave this town' kind of kid," Evans says. "This is home to me. I have no desire to lay down roots somewhere else."
EVANS IS CIRCUMSPECT about his private life, which he doesn't much discuss. Back in the early aughts, he dated Jessica Biel and Minka Kelly. But recently his red-carpet dates tend to be family and friends. At the last Academy Awards, his date was his brother Scott, 35, also an actor.
Most recently Evans garnered attention for an on-again, off-again relationship with actress Jenny Slate, whom he met on a read for the family drama Gifted. "She was just like, 'Man, you're not like what I thought you were going to be.' I can speak fluent bro, but I don't consider myself one. I wear a hat, and I drink beer, and I like sports. But I was a big theater dork in high school, you know what I mean?"
The relationship with Slate ended last year, and Evans is back looking for a partner. "I really want kids. Yeah, I do. I like pretty pedestrian, domestic things. I want a wife, I want kids. I like ceremony. I want to carve pumpkins and decorate Christmas trees and s* like that."
I ask Evans what else is on his bucket list. "I've never been to Hawaii. Never seen the northern lights."
The Captain America experience, he says, has given him the luxury of taking chances. "When you can relax a little bit, when acting doesn't feel like this weird pressure cooker of grabbing the next vine before you let go of the one you got, that's when it's fun."
I ask Evans about a farewell gift Robert Downey Jr. gave him as filming wrapped on Endgame: a meticulously restored and modified 1967 Camaro RS. "It's actually here!" Evans says, pointing toward the garage. The Camaro is done up in a low-key custom hue Evans says Downey selected himself: "Melted army man green."
Downey, Evans says, was shocked when he asked him to deliver the car to Massachusetts, rather than L.A. But in Los Angeles, such a conspicuous ride would make it easy for paparazzi to spot him. Here, he says, the Camaro mostly draws attention from "old dudes and their old cars," a rural Massachusetts staple.
Those guys will flag him down in parking lots, ask him to pop the hood. Evans always complies, saying, "I don't know a f**ing thing about it." The subtle design of the Camaro's steering wheel centers around a milled-metal Captain America shield.
"If I have to drive somewhere with the windows down, the music up, on a nice summer day," he says, "there's nowhere I'd rather do it than here, you know what I mean? This is home."
This article has been edited for girlsspeakgeek.com. The complete story appeared in
Men's Journal
May.2019.