On a raw autumn morning, Chris Pine stands in the rotating shadow of the hulking old [Wonder Wheel]. He digs in his jeans pocket, and deposits fifty cents. Grandma creaks to life and runs a finger across the fan of tarot cards on the table before her. Her prophecies are delivered on two-by-four-inch yellow cards, printed sometime in the past century by the mystics at the Mike Munves Corp., New York, then stacked, loaded, and left here to slumber, waiting for the day when a budding movie star would come along with two quarters and a desire to learn his fate.
It's Pine's first visit to Coney Island, and he's smitten: [everything] has been duly assessed and proclaimed "f**ing awesome" as we rush back and forth on the Boardwalk.
For all his midwestern good looks – the fair hair, the sharp chin, the blue eyes – Chris Pine came to Hollywood not as some wide-eyed bus-station ingenue but as a child of the film business's working class. His grandmother, Anne Gwynne, was a star of 1940s B features like Weird Woman and Dick Tracy Meets Gruesome. His father, Robert Pine, is a charter member of the That Guy Society–an actor with a several-decades-long list of credits, whose face you know but name you've never heard. Recently, he popped up as Jim Halpert's father on The Office.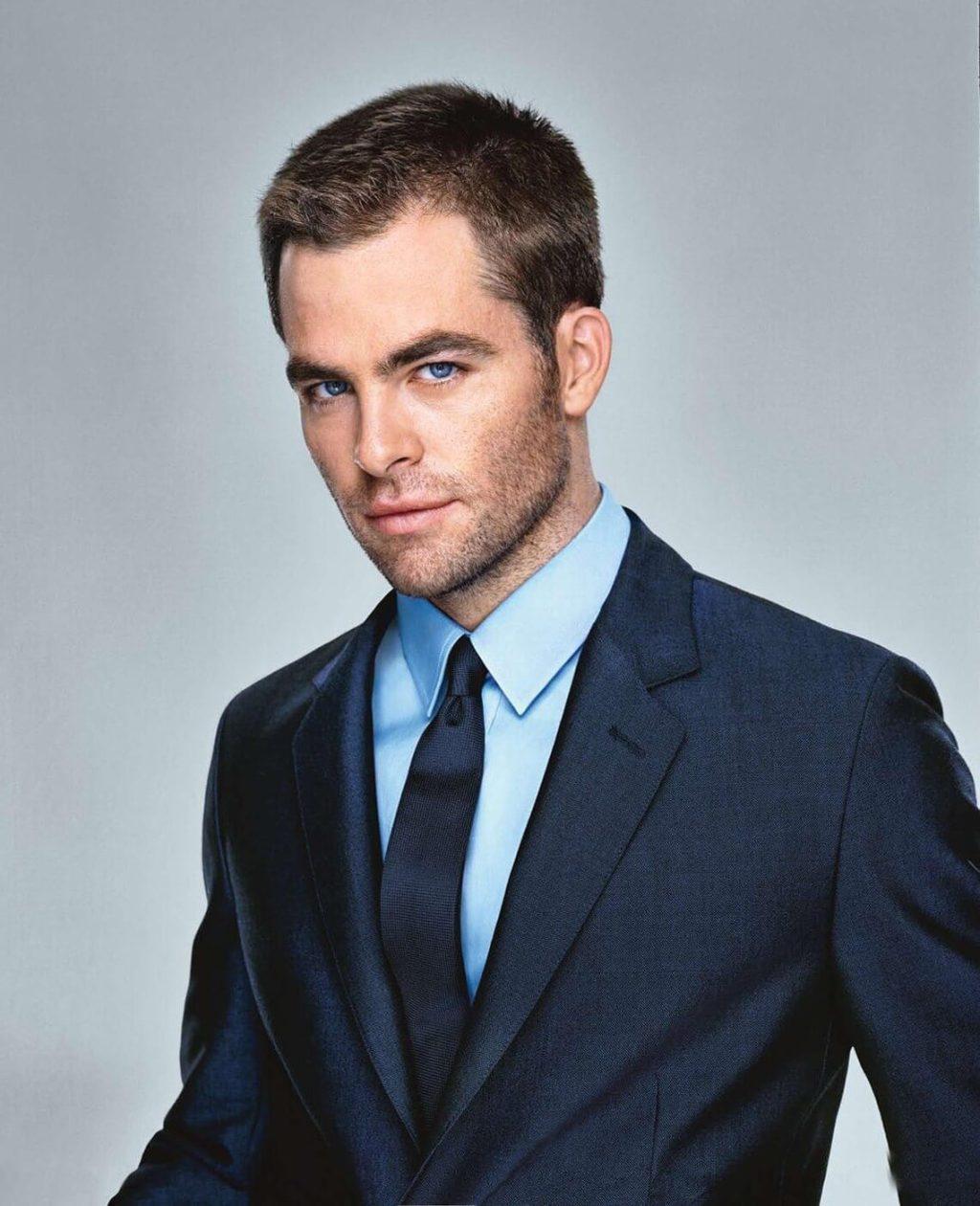 Pine, then, grew up in the culs-de-sac of Studio City and Valley Village knowing both the glamorous and the industrial sides of the Glamour Industry. "I was privileged, for sure. Definitely sheltered. But I'd also seen the ups and downs of a career where, if there's no work, there's no work."
Pine's mom had enjoyed a brief acting career herself but then became a family therapist. "It certainly made puberty interesting," Pine says of having a mom tuned in to the particulars of adolescent awkwardness and rage. One thing Pine's mother wasn't going to have was a child actor in the family. Luckily, preteen Pine was obsessed by Top Gun. But he wanted to be a fighter pilot, not Tom Cruise.
It wasn't until his years at Berkeley that Pine came to acting. "Basically, I was always looking to find a group of friends, and theater provided that." He reveled in odd roles, like the multiple characters he played in a production of the Irish play Talbot's Box in Berkeley.
Taking on the role of Kirk was one of the tougher decisions of his career. By then he had achieved some film success, notably in Princess Diaries 2 and as a speed-addled neo-Nazi in Joe Carnahan's Smokin' Aces. But he felt he'd hit a wall, that he no longer knew what he was doing in the business. "I told my agents that as a bachelor with a cheap apartment, I had enough money to take a couple of years off if that's what it was going to take."
The agents nodded politely. Then they came back with Star Trek.
"I said, 'Are you kidding?' That's the last thing I want to do.'"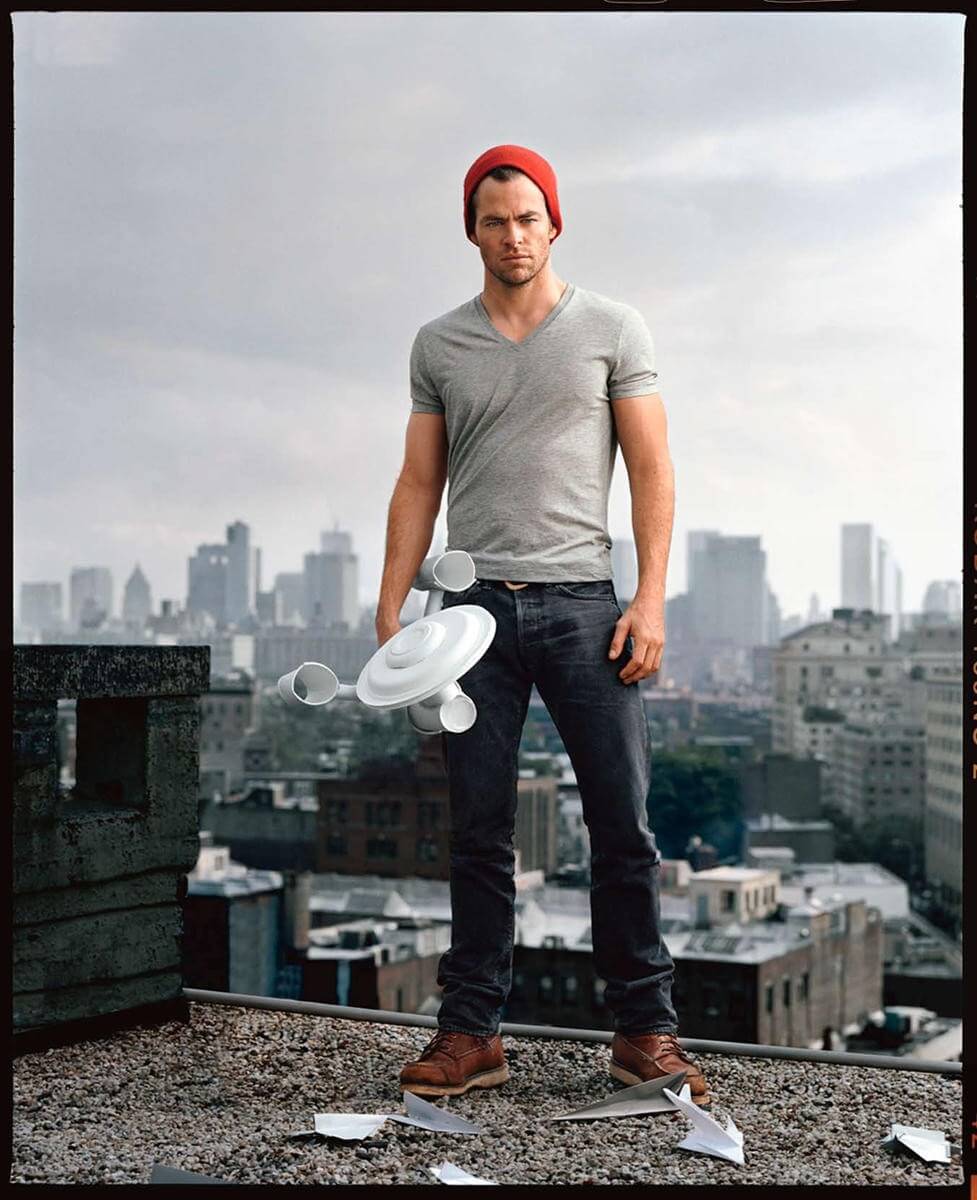 "I totally understood that feeling," says director J. J. Abrams. "For a young actor, a part like Kirk has got lots of advantages but also plenty of disadvantages. When I called to offer him the part, he said, "You're not going to make me wear spandex, are you?'"
Pine's initial reluctance may explain why he made such a thoroughly likable captain of the Enterprise, never devolving into a William Shatner impression, while still possessed of some essential Kirkitude. Pine's sly reinvention of Captain James T. Kirk helped propel Star Trek to success among audiences, critics, and geeks. "When I watched the scene in which Kirk and Bones meet for the first time, I let out an actual sob in the theater," testifies no lesser an authority than Leonard Nimoy.
Pine appreciates the quality of puffed-up self-parody that Shatner brought to the role. "You inflate Kirk and then you pop Kirk." And Pine's version radiated a confidence – to look foolish, to get his ass kicked, to share the screen with other actors – reminiscent of early Harrison Ford or late George Clooney. The Ford connection was made all the stronger by reports that Pine might take over Ford's role as Jack Ryan in the Patriot Games franchise.
Even the most blessed acting career is filled with dozens of cruel, casual blows and rejections. Pine has a knack for remembering each one. That includes rude patrons at his one restaurant job, just before landing Princess Diaries 2. "The customer is not always right," he says with the smile of a man who will never be forced to work the hosting station again. "Sometimes the customer is a f**ing asshole." And the prospective agent who told him his audition was the worst thing she had ever seen? He's considering sending her a Limited Edition Star Trek Eggo Waffle, emblazoned with Kirk's and Spock's faces, along with a note: Eat me.
But no one gets the brunt of Pine's anger more than the paparazzi that began camping outside his Silver Lake apartment soon after Star Trek was released–in part, it has to be said, because he was reportedly dating The Hills star Audrina Patridge.
"I have never seen anybody react to that stuff so poorly," says his co-star John Cho, who remembers a lunch he had with Pine and Zachary Quinto soon after the film became a runaway hit. "There was a guy with a camera, and Chris couldn't concentrate. He was up in the window giving the guy the finger, trying to mess up his shots. I was really taken aback."
Pine's intensity barely dims in the retelling. "I made the mistake of talking to one of these guys outside my apartment. I said, 'Do you have a family? What do you tell them at the end of the day? "Daddy had a good day…"?'"
There's nobody trailing us as we wander past the amusements still open this late in the season.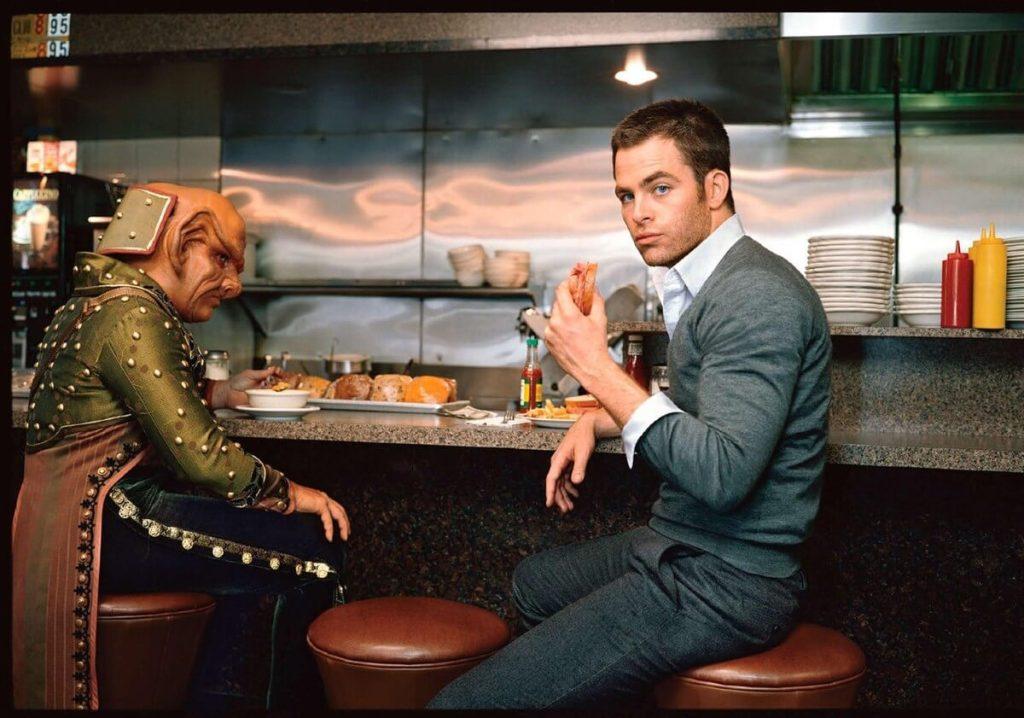 Pine is keenly aware of the hazards of success and the somewhat precarious moment he finds himself in. "I've seen what can happen to an actor when he's just working for the sake of working. All of a sudden it's ten years later, your career's happened, and you haven't had any control. I still assume that, any day, I'm going to be exposed as a fraud. That, like I once heard Gene Hackman say, the acting police are going to burst in and take away my card."
And should that day come? If the paparazzi disappear, along with the spandex and the waffles?
He shrugs. "I've learned that when you make big life decisions, life says, 'F** you. This is what you actually have in store.' "
This article has been edited for girlsspeakgeek.com. The complete story appeared in
GQ
Dec.2009.