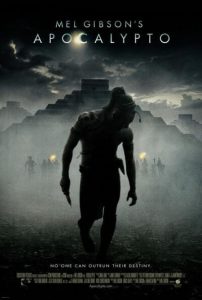 Rating: 3.5 of 5





To begin with, I went into Apocalypto without knowing what to expect and I think this is the sort of film that is better that way.
I enjoyed it.
It's very powerful emotionally and visually.
But know that it's violent, not throughout but where it is – it's savage and visceral. If you can handle that then I'd say it's worth seeing.
It doesn't feel as long as it is. I didn't even realize until after the movie was finished how much of it is without dialog. Which I think is significant because normally when you think of a long movie (over 2 hours) with sparse dialog the first thing I'd think is that I'd get bored. And I wasn't. I didn't even notice.
A film like this is good. But when we're drawn (or forced) to ask questions about ourselves and our own lives and choose to change then it becomes a film that matters.
| | |
| --- | --- |
| Writing: | |
| Characters: | |
| Performances: | |
| Directing: | |
| Production: | |
| Overall: | |